You are currently browsing the category archive for the 'Travels' category.
Now that the December hullabaloo has died down, (what? You're still celebrating??) January is traditionally a time for the holiday brochures to make an appearance, and cold evenings huddled around a fire are spent dreaming of the sunnier, warmer days of summer ahead, and how to spend them. If you're not one of those who go flying off to foreign climes, but prefer to explore the ancient heritage of the British Isles in a so-called 'Staycation', you may well be looking for some ideas.
Luckily, our friends over at the Heritage Daily have recently been putting together a few 'Top Ten' lists which may inspire you.
Firstly to set the scene, a list of the Top Ten Archaeological Discoveries in 2013.  Not so much here on places to visit, though my personal favourite 'local' henge at Norton in Hertfordshire is included here. Whilst there's not that much to see on the ground at Norton, taking in the wider landscape of the 'Baldock Bowl' can reap some rewards, whilst a few miles away is the largest longbarrow in Hertfordshire, just outside Royston.
If stone circles are your 'thing', a list of the Top Ten Circles in Britain  should provide plenty of inspiration. From Brodgar in the north, to Stanton Drew and Stonehenge in the south, all the major circles are here.
Hillforts seem to be coming under attack from developers lately (see our recent stories on Oswestry), so why not get out and see a few while they're still relatively free of housing? The Top Ten Iron Age Hillforts list features some spectacular forts, from East Lothian in Scotland, down to the South Coast.
If your tastes verge toward the more 'modern' side of ancient heritage, the Top Ten Roman Forts  list should do for you, though we're straying outside our 'mainly Pre-Roman' remit here :-) As you'd expect, Hadrian's Wall features prominently – if you're a Romanist and haven't walked it yet, I'm assured you're missing out! But there are also shore forts from around the coast, so whichever part of the country takes your fancy, there should be something there for you.
So plenty there to get your travel plans under way, whether it be for a day trip, long weekend, or something a little longer. Why not tell us your plans for this year? Which sites are you hoping to see for the first time? Which old friends will you be revisiting? Let us know via the Comments.
A guest post by Heritage Action founder member, 'Goffik'.
A couple of weeks ago I wrote an article about the modern megaliths of North Wales. I know full well it's far from comprehensive, but these were just the sites that we stumbled across on our travels. We had no idea that any of them existed until we chanced upon them, and so they were – each and every one – a complete surprise!
One that inexplicably slipped my mind at the time was one of the newer modern stone circles – built, as it was, in 2010 – called "Poet's Corner". It is to be found in the fabulous Greenwood Forest Park, in Snowdonia. Each of the 16 enormous slate slabs – all locally sourced from Penrhyn Quarry in Bethesda – has been engraved, by Maricraft Slate World in Blaenau Ffestiniog, with Welsh poetry, which is translated into English on a nearby information board.
The feeling upon entering this circle is quite amazing. The stones are huge, and you get a wonderful sensation of security and isolation, and being separated from the outside world. Quite an achievement in a 3-year-old structure in the middle of a theme park!
You may be wondering what place an article about modern stones has on a journal concerned with preservation of ancient sites. For the vast majority of people, megalithic structures barely register on their everyday lives. Many don't know of the existence of stone circles, other than Stonehenge. To bring to people's consciousness the possibility that other such structures exist, and to instill in them a feeling of respect toward them, is surely a good thing. Hopefully, seeing these modern stones will encourage people to want to find out more about their origins, and that they will have a connection with them.
A modern circle is often, also, more accessible for some, as accessibility wasn't always to the fore in our ancestors' thoughts when constructing their monuments! And who knows? One day, with any luck, they, too, will be thousands of years old…
If you've visited, or know of similar modern circles in your area, Please do write in and let us know of your thoughts about such places. Many thanks to Goffik for sharing his. 
A guest post by Heritage Action founder member, 'Goffik'.
OK. Here's a complete flight of fantasy and wishful thinking…
On a recent trip to North Wales, which included a disappointing lack of visits to ancient stones (but was a glorious holiday anyway!), I found myself paying attention to the multitude of seemingly random, or recently placed stones which graced our journeys.
Some of the stones made me wonder if they had any provenance in antiquity.
For example: along the Rhyl promenade, opposite the bright lights and sounds of the arcades, and backing onto the beach, are a group of recumbent boulders. Although I'm almost certain they've been placed there in recent times, I can't help but think there was a deliberate effort to make them appear to be the remains of a ruined megalithic site.
What do you think? http://is.gd/KXL7he (Google Streetview link)
And – dammit – I can't find the modern megalith I passed frequently along the same road. A 20ft (guess) slab of slate (again – guess) outside, as I recall, a bowling alley. It's not uncommon, as signage goes these days, to use a stone to inscribe the name of the business upon, but at the base of this particular one is a lichen-covered boulder which – in a different context – could easily – speculatively – be considered as part of an ancient monument! I seem to remember several other boulders just behind it, to add to the fantasy…
However, further still, along the modern-megalithic promenade, is a wonderful stone circle… This circle is well documented – built, as it was, for the Eisteddfod – so there is no confusion as to its antiquity, although it would appear to have changed over the years, as witnessed by these two photographs: http://www.geograph.org.uk/photo/2665024 and http://rhyl-life.blogspot.co.uk/2009/02/stones.html
We saw another fine example of a modern Eisteddfod stone circle on a visit to Llandudno, and Great Orme. At the foot of the hill, not far from the cable car, is Happy valley – a beautiful, completely man-made (or at least enhanced) wooded garden, for want of a better description – and it deserves a better one! :) In an open area at the bottom is the circle, which was constructed in 1963 for the aforementioned Eisteddfod. It is visible from various viewpoints, including the cable car, footpaths, the road and the pier. If you have good eyesight.
Although the web has much better images of the circle, these are mine, first as taken from the cable car as it passed overhead:
And another, taken at ground level this time.
On our way home, we took a diversion through Llangollen, and discovered yet ANOTHER Eisteddfod circle! This time in the grounds of Plas Newydd. Constructed for the 1908 Eisteddfod, it is located between beautiful architecture and topiaries. It also has the added bonus of a faux cromlech in the centre!
We'd not planned to visit any of these places beforehand and so had no idea that we were going to see anything like it! Therefore we hadn't swotted up on any info surrounding them, so it was all a pleasant surprise.
Even though Wales is absolutely stuffed with genuine prehistoric remains, each of these places is well worth a visit – we'll definitely be spending more time at each of them. Especially, I suspect, Plas Newydd. And Great Orme.
This is the first of in an occasional series in which we ask members and readers (including you if you would like!) to give us a brief impression of their very earliest encounters with ancient sites. First up is Founder Member Graham Orriss…
____________________________________________________________
I'm certain I'm not alone here, but as a child, I didn't appreciate the wealth of ancient history I had access to. In fact I found the whole idea of "history" quite a boring one! I had no interest in it whatsoever. Which was a shame, as my friends and I were regular visitors to such amazing sites as The Five Knolls, on Dunstable Downs. My Dad frequently took us to the hillfort at Totternhoe Knoll for a run around; the chalk pit at Sewell, which houses part of the ramparts of Maiden Bower; Ivinghoe Beacon… I had no idea what any of these things were until long after I'd moved away from the area.
The trouble, as far as I can see, is that Dunstable (the town that I grew up in) was very important in Roman times, where it was known as "Durocobrivae". Therefore, anything prior to the Roman's arrival was pretty much glossed over in the classroom.I have vague memories of mentions of prehistory, but there was very little. Sadly.
I rarely have an excuse to go back there nowadays. I had a great childhood, running around these sites with no knowledge I was doing so. I'd love to see what I enjoyed as a child through adult eyes; see what I missed. Maybe it's a good thing. I enjoyed them in my own way without hindrance, as I now enjoy them as an adult with respect.
A couple of years ago now, Heritage Action member 'Scubi' (Chris Brooks) documented his 'trip of a lifetime, Scottish Adventure' around the highlands and islands of Scotland, visiting many of the prehistoric monuments on the islands.
And now, regular reader Mark Griffiths has documented part of his own trip to Orkney on his personal blog.
As Mark says in his introduction:
Prehistoric Britain exists all around us, with standing stones jutting out of the ground all over the countryside, and chambered tombs tucked into shady corners of modern housing estates. But there are several 'prehistoric landscapes' where great swathes of the country are kept as once they were, and it doesn't take much imagination to feel a tremendous resonance with the past. Remote in both time and space, places like Mitchell's Fold and Bryn Celli Ddu hold a special fascination for me. Larger landscapes, such as the justly-famous Stonehenge and Avebury sites in Wiltshire, even with the close proximity to the modern world, and the super-attraction tourist status they have, still have the power to evoke a certain something.
Certainly words that resonate with us here at the Heritage Journal! He continues:
Orkney, however, is a particular favourite of mine. A collection of 90 islands off the north coast of Scotland, the islands are made of Old Red Sandstone, which is excellent for building with as it can be quarried into blocks with ease. Perhaps it was this very fact that led to prehistoric folks settling here all those years ago. From about 3500BC it is believed the islands were being settled, as the hunter-gatherer way of life settled down into farming.
His account includes some stunning photographs – I suspect the islands are similar to Cornwall with regard to good light, I've yet to see a bad photograph of the monuments there!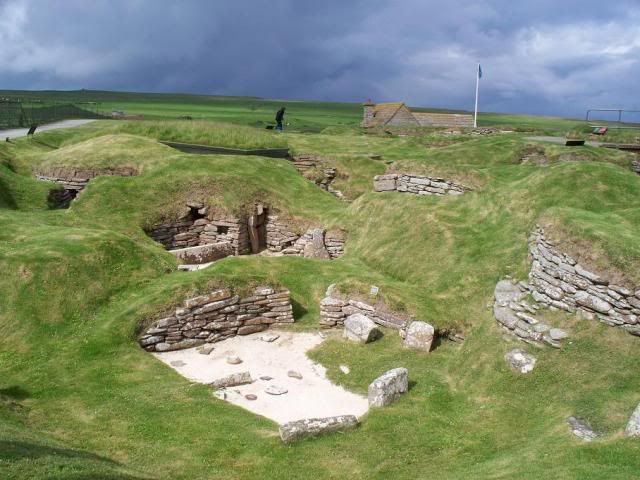 Mark visits all the usual sites in his blog: Skara Brae, Barnhouse, Stones of Stenness, Brodgar, Maes Howe etc. and it makes a good read. His blog name includes the epithet 'Heritage Hunter!' as a tag line, so we'll certainly be keeping an eye on his future posts…
Visit: marrrkusss – Heritage Hunter!
If you've experienced your own 'trip of a lifetime' to a British heritage site or sites, why not drop us a line and let us know about it so we can feature your trip here too?
Last weekend was a Bank Holiday Weekend in the UK, and with the first real view of blue skies of the Summer, it was time to take to the road for another Heritage Drive. The plan this time was to take a circular route from London, up the A1 to Letchworth, across to Cambridge, then heading south again via Saffron Walden and Bishop's Stortford back to London, taking in various heritage sites en route.
Turning off the A1M at the Letchworth junction, our journey proper starts with a trip northeast across the 'Baldock Bowl', so called by the Norton Community Archaeology Group, who have a long term project running just north of Letchworth on the western side of the bowl, investigating a Class Ia henge with internal post setting and two ditches, amongst evidence of other contemporary monuments. But as we follow the A505 toward Baldock we pass an area which includes another prehistoric monument, the Weston Hill Henge.
Past Baldock, we continue on the A505, which for some of its length follows the line of the Icknield Way ancient track, until just before Royston we see on the horizon to the right the barrow cemetery of Therfield Heath, which we've featured here on the Journal before. Royston of course, is named after the glacial erratic stone which features in the centre of the town, close to the entrance to Royston Cave, a possible medieval hide-away or meeting place with some intriguing carvings.
Joining the A10, we next head up toward Cambridge, turning off after the village of Harston, to head toward Hauxton and the Shelfords. Our next scheduled stop is the church at Little Shelford (turn left into Church Lane), where although the church has a web site there is no information whatsoever about the history or structure of the church, which has several old carved stones embedded within the tower, porch and on the southeast wall. It would be interesting to know the history of these stones, but the church was locked on my visit, so I don't know if an information booklet is available.
Back on the road, we head toward Great Shelford, and the A1301. Our destination is a short distance north east on Granham's Road. After passing the White House farm, there is a pull-in with a Public Footpath sign. From here we set off on foot toward Addenbrooke's Hospital in the distance, before following the bridle path round to the left, to Nine Wells nature reserve. This is a small area, with several natural springs, now formed into three separate springheads. In 1614, Cambridge needed a new water supply. Thomas Hobson built a causeway bringing water from the springs at Nine Wells into the city centre. But he had another claim to fame. Thomas Hobson hired out horses, but hirers had to take the horse closest to the door. This led to the expression "Hobson's Choice" meaning "No choice"!
Continuing on, and turning right onto the A1307, we come to Wandlebury Park on the left by the dual carriageway, the site of an Iron Age Hill Fort,  within the Gog-Magog Downs, site of Tom Lethbridge's now legendary hill figures. The hill fort is now part of a Country Park and popular with families and dog walkers alike. The car park was busting at the seams when we arrived and we did not stop to investigate on this occasion.
We then headed down to Saffron Walden, site of a turf maze and Audley End House and Gardens,  an English Heritage property, for a spot of lunch at the weekend market in the town.
Cutting back west past Audley End to head south on the B1383 we passed close by the site of the Ring Hill hill fort, now overgrown and as far as I know, inaccessible on private land. The next village south was Newport, home of the Leper Stone, a prehistoric standing stone more recently used as a receptacle for alms for inhabitants of a nearby leper hospital. Also in the town, near the railway station, is a large puddingstone, possibly one of the sites on the supposed 'Puddingstone Trail'.
Nearing the end of of own trail, we pass through Ugley, where another Puddingstone lies at Ugley Green, and Stansted Mountfitchet, site of a replica Norman Castle and Toy Museum – fun for all the family is apparently guaranteed!
And finally to Bishops Stortford, where Wallbury Camp, yet another hillfort in this mostly flat part of the country, lies just to the south of the town on a private estate, hidden by trees.
The variety of heritage on a trip like this just goes to show how much it's possible to see, from many different periods, on a day trip by car from North London. Why not tell us about your own trips?
As part of our own September Heritage month I decided to take a drive out from London to see what we could see at the weekend. As friends of ours were dancing at the annual Wallingford Bunkfest, that was our prime destination as we headed up the M40 on Sunday morning.
Turning off at the Lewknor junction with a pair of Red Kites swirling overhead, we dropped south to Watlington, with the route of the Icknield Way on our left running parallel to the road. There is debate in some  parts  as to whether the Icknield Way is truly part of a 'Neolithic Superhighway'. Undoubtably there are sections of the Way that are extremely ancient, but whether the entire route was in use as a concerted whole cannot be proved.
At Watlington, the 'White Mark'  sits on the hill overlooking the town. The Watlington White Mark was designed by local squire Edward Horne, who felt that the parish church of St. Leonard, when viewed from his home, would be more impressive if it appeared to have a spire. He had this unusual folly cut into the chalk escarpment of Watlington Hill in 1764. It is 36 feet (11 m) wide at its base and 270 feet (82 m) long.
South of Watlington, the Icknield Way splits into Swan's Way and the Ridgeway, rejoining south of Wallingford, and at this point we turned west toward Benson, the site of the neolithic Benson Cursus,  now covered by an airfield. There is sadly nothing left to see of the cursus here.
And so into Wallingford itself across the medieval bridge,  which still only allows for single file traffic. Bunkfest is named after the Cholsey & Wallingford Railway, also known as the Bunk Line, and is an annual celebration of music, song and dance. The main events are held on the Kine, a green area in the centre of town and there were several craft stalls, a small exhibition of miniature steam engines, the obligatory beer tent, and two stages for bands and the various Morris sides to perform.
Having met with friends and enjoyed watching a dance or two, we left Wallingford via the bridge again, and headed southeast, toward Henley-on-Thames.
The road between Wallingford and Nuffield runs to the north of a 3 mile long 'Grim's Ditch' (pdf link) earthwork which is part of the Ridgeway long distance path.
Continuing east, Nettlebed has a brick kiln in largely good condition, and a couple of geological curiosities in the form of two large puddingstones (pdf link). Both of these items have information boards available, and kudos to the parish council for including QR codes linking to the local web site on the info boards!
Continuing through the atmospheric Nettlebed Woods southwest toward Henley, we turned north just before the town to follow the bend of the river then east again toward Medmenham, site of an Iron Age hillfort which sits on a bluff, overlooking the church and the river beyond.  The site of a second fort also lies close by, in the grounds of the Danesfield Hotel.
Passing through Marlow, we then headed north on the A404 and finally east on the A40 back to London.  Our final stop was at Bulstrode Camp, another Iron Age hillfort in Gerrards Cross. The camp is now a large open space surrounded by upmarket housing, largely used these days by dog walkers.
And thus our Heritage Drive came to an end. An enjoyable, if long, day taking in a plethora of heritage site from the Ice Age (Nettlebed) through to the present day, although there were doubtless a lot of heritage sites that we missed or passed close by to. If you've had a similar day, or are planning one this month, why not tell us about it?
Summer seems to be running a little late this year, so with that in mind, we'd like to try something a little different next month, and Dear Reader, we'd like your help to do it!
As regular readers will know, we're advocates of getting out and seeing our (pre-Roman) archaeological sites as often as possible, and we've previously written on how to prepare for and enjoy such visits.
Now, if we can, we'd like to get an idea of how many people are actually visiting the monuments and where they're going. So if you're planning a day out (or longer) in September; be it a hike across the moors to see some rock art, a day out with the family to a curated 'attraction' such as Stonehenge, a stroll across the local common which has some barrows still visible, or even if you're working on an archaeological dig somewhere, please let us know.
It would help us immensely if you could fill out our short survey form about your visit, it  would be very much appreciated. All personal details will be held in confidence and not shared with any third parties.
Date of visit
Site(s) visited
Number of people in your party
Reason for selecting this site
General impressions of the site and your visit
Or feel free to Tweet us or drop us a line via our Facebook Page. We'll collate statistics for the returns we receive, and will provide summaries of the sites visited. If you'd be happy to write a full blog post about your trip, we'd love to see that too!
We look forward to hearing about your trips throughout next month!
'They' say that our past is all around us, if only we know where to look. Well, out on a Bank Holiday drive earlier this week, I wasn't looking but stumbled over it anyway.
I knew that there were Roman remains in Harlow, Essex but Roman is not really something I personally search out, being more interested in the older stuff. However, heading home across Essex I spotted a small sign approaching a roundabout; "Ancient Roman Temple Site" and was intrigued, and with time enough to take a slight detour from my chosen path, took the turning. And I'm glad I did, because this small sign was a pointer to one of the most important sites in Essex – a large Roman temple built upon an earlier Celtic one, and an even earlier Bronze Age pond barrow!
The site is incongrously set within an industrial estate. Look on Google Maps satellite view, it's the estate to the north of the town. There's a small patch of green amongst the warehouse units, just north of the railway line. The markings look a little like a sports field, but that's it!
The site is freely accessible on a small hillock raised from the surrounding ground, with the River Stort a short distance to the North (behind the industrial units). Despite the distant roar of traffic, the site was filled with birdsong during my visit, and exudes an air of peace and tranquillity – but then it was a Bank Holiday!
So what can be seen at the site today? Happily the information boards, although slightly water damaged are actually quite useful in visualising what was here. On the ground there's very little, bar some paving slabs demarking the limits of the outer temple, a raised area showing the inner temple, and what look like a couple of concrete blocks marking the altar stone. Nothing remains of the earlier temple and barrow, but they are marked on the map on the information board, and imagination can fill in the gaps from there.
The following timeline is taken from the northern of two information boards that I saw at the site:
5000 BC Mesolithic Hunter Gatherer Encampment
2000 BC Bronze Age Pond Barrow
200 BC Celtic Temple built
AD 80 Roman Temple built
AD 200 Temple rebuilt
AD 375-400 Temple destroyed
AD 500 Saxon Temple built
AD 600 Site finally abandoned
So, with over 5500 years of use this has obviously been a significant site, and the name of the town, Harlow supposedly comes from the Saxon settlers who called it Hearg-Hlaw, or 'Temple Hill'.
Roman remains were unearthed here in 1764, and the temple was investigated in the 1920′s and 1930′s. Larger scale excavations took place in the 1960′s and 1980′s and finds can apparently be seen in Harlow Museum.
So when you're next out on a drive, keep an eye open for roadsigns pointing to historic sites, you never know what you might come across!
This henge and stone circle is entirely a reconstruction, improbably situated between a flooded gravel pit and a landfill site just south of the village of Stanton Harcourt to the west of Oxford. But this is far from a 'Disney' theme park site. The large circular enclosure is defined by a bank and internal ditch, which has entrances to the east and west. Within lies a circle of 28 local conglomerate stones, the Quoits, with one off-set on the south side.
The nearby village of Stanton Harcourt takes it's name from the stone circle; Stan-tun, or "farmstead by the stones". This nomenclature is also seen in other sites, such as Stanton Drew south of Bristol, and Stanton Moor in Derbyshire. The village became known as Stanton Harcourt after Robert de Harcourt of Bosworth, Leicestershire inherited lands of his father-in-law at Stanton in 1191. The manor has remained in the Harcourt family to the present day.
In the Second World War, the two remaining stones at that time were flattened (but recorded) as part of the construction of a wartime airfield, the henge and ditch having disappeared long before as the result of earlier agriculture. Thus the site had all but disappeared from the record with nothing remaining to be seen.
Excavations in the area first started in the 1980′s and have continued for over 3 decades, largely overseen by Oxford Archaeology. A report of findings has been produced, showing that the area has been in extensive use for habitation and ritual since at least the Neolithic, right through to the post Roman era.
With use of the site planned for gravel extraction, in 1996 Time Team recorded a dig here.  In Season 3 episode 2, recorded in April 1995, the team unearthed evidence of remains of mammoths and other prehistoric animals. The conclusion was that the site had been in use since at least the Mesolithic period.
In 1846, the stones at that time were described briefly in "The wanderings of a pen and pencil" by F. P. Palmer and Alfred Henry Forrester:
…we turned our steed to the village, and inquired of the first juvenile upon the road the whereabouts of the stones in the vicinity, usually called the "Devil's Quoits."
"It's over the field," said the smock-frocked urchin, pointing westward, in the direction of the stream. At our bidding, and with the understanding of a compensation, we wagged his pair of cumbrous heels by the side of our vehicle, and became our guide. The first rude stone lies in a field to the right of the field road, and is of no great size. the second is in another in a "land" further on. The third, and the tallest, beyond that, in another ground.
"Them be the devil's kites!" said the guide; "a many year ago they carried a bigger than all on 'em away, to make a bridge somewhere." We alighted, and deliberately inspected them. They are of the sandstone common to the country, veined with a deeper shade.
By 1856, Dicken's Dictionary of the Thames counts only two of the stones, and gives a brief mention of their possible origin.
Some half-mile from Stanton Harcourt are two large stones called the "Devil's Quoits", which are said, on doubtful authority, to have been set up to commemorate a great battle fought in 614 between the Britons and the Saxons under that Cynegil who was subsequently baptized by Birinus at Dorchester.
Lewis' Topographical Dictionary of England (1835) also mentions this same battle (and may well be source of the quote above), adding that more than 2000 Britons were killed in the battle.
The name of the "Devil's Quoits" pertains to another legend, outlined in the book 'Oxfordshire Folklore', by Christine Bloxham (tempus 2005), it is said that the Devil was playing a game of quoits and was told off by God, because it was a Sunday and there was to be no recreation. In a petulant fit of anger the Devil threw the quoits as far as he could and where they landed became the site we now know.
A different legend suggests the same devil was playing a game of quoits with a beggar, which the beggar lost. The quoit remained to form the henge we see today. One of the stones was reported to have been removed for a bridge over the nearby Black Ditch. However, the stone kept slipping and would not remain in place, so was returned to the circle.
But what of the monument today? Completely reconstructed, some would now dismiss it as a fake. Certainly, the ground inside the henge is strewn with litter and bones (and the smell!) from the nearby landfill, and the makeup of the soil being largely uncompacted suggest that it's a relatively new addition. True, rabbits (a largely Norman import) have devastated the banks of the ditch despite all efforts to control them. And yet, standing on the raised bank of the henge, looking across at the altered landscape, this site has a certain something evocative of the past.
Links: