You are currently browsing the monthly archive for December 2015.
by Alan S.
We conclude our review of 2015 on the Heritage Journal, through Autumn and bringing us right up to date.
September
Sadly, there seems to be a need amongst certain visitors to ancient sites to proclaim their presence to others in the worst way possible. We highlighted two sites where this was the case this month, with both the Nine Ladies of Stanton Moor in the Peak Disctrict, and the Ring of Brodgar on Orkney being targeted by vandals.
Yet there are more pleasurable and responsible ways to visit sites, as a group in the Peak District demonstrate. We also attended a one-day conference celebrating Prehistoric Kent.
We held a short survey of our readership this month, and the results showed a pleasing balance of both professional and amateur archaeologists and others interested in heritage.
In our stone rows series we examined the Sharpitor NW single row, and introduced a new occasional series looking at the 'Neolithic M1', whilst in Parliament some incisive questions were being asked about Stonehenge.
October
Two very opposing threads appeared this month. The first, that of damage and desecration was highlighted by a story from Ireland, and our mood was not improved by two stories of 'Brandalism' in Cardiff and Wilmington.
The second thread was one of protection. Firstly, one of our readers intervened in a situation at Castlerigg,  and we reported on some sterling site clearance work being done in Cornwall.
Staying in the SouthWest, we looked at the Cornwall Council Mapping Service and it's use when planning site visits, and added the Yar Tor alignment to our regular series on stone rows.
Oh, and we answered some useful constructive criticism of our views of archaeology and archaeologists.
November
As the Stonehenge tunnel saga rumbled on, we tried to unravel some of the doublespeak being used, and pointed out several holes in the case for the short tunnel and the National Trust's double standards. As for the Portable Antiquities Scheme, we made a suggestion to improve their funding and pointed out the problems with the Emperor's new clothes.
We shed new light on Cadw's methods of 'Preservation by Record', whilst a glimmer of different kind, one of hope, shone for Oswestry.
We also wrote about the Peddars Way, part of the 'Neolithic M1', and highlighted some of the history of the Boslow Stone, in Cornwall.
December
This month the focus has largely been on Oswestry, with a demonstration at the Shropshire County headquarters followed by the devastating decision to retain OS004 within the SAMDEV plan. But this is not the end, the fight goes on.
We continued to campaign for Mynydd y Betws recognition as a prehistoric site (and the fight goes on), and showed how old maps can demonstrate the changing interpretation of a site through time.
Our Christmas competition this year was a bit harder than most people expected. If you were stumped, the answers are now available.
Conclusion
Firstly we'd like to give hearty thanks to all our contributors, commenters and other participants, as well as all our readers. Without any of you, there would be no Heritage Journal. As the news in general for heritage has been particularly grim this year, we've posted nearly 250 articles, well over our target of around 180 for the year.
Of necessity, this review has been just a brief overview of some of the stories we've presented, but we'd urge everyone to browse through our archives (see link on the left) to catch up on any stories you may have missed. We'd like to close by wishing all our readers a healthy and prosperous New Year.
Personal Note: Once again, for the second year running, family health issues have truncated my opportunities to get out amongst our ancient sites. But as ever, I'm hoping a more normal service of providing visit reports and Bank Holiday drives will present itself in 2016.
Be assured we'll continue in the New Year, making the establishment as uncomfortable as we can by discussing the embarrassing issues in Bonkers Britain as usual. So don't forget to follow us on Facebook, Twitter or here on WordPress/RSS to make sure you don't miss anything. And if you'd like to contribute, either a one-off or on a more regular basis, please get in touch!
by Alan S.
We continue our review of 2015, looking back through the Spring and Summer months.
May
A month of change with the split of English Heritage, and a new Chief Executive about to take the reins, a new Culture Secretary who seemed to have a grasp on things. And a recent Historic Environment (Wales) Bill.
Meanwhile, in London, the Council for British Archaeology's Local Heritage Engagement Network  held a workshop for heritage advocates. Unfortunately we were unable to attend, but by all accounts the event was well received, and has since been successfully repeated in other parts of the country.
Craig Weatherhill from Cornwall was our "Inside the Mind…" subject, and a gorse fire on Carn Brea at Camborne provided a possible opportunity for survey work.
June
With a change of management structure at the Portable Antiquities Scheme, we suggested 10 truths the PAS must make public. RESCUE meanwhile, unveiled a new look and the annual Day of Archaeology gave us an insight into how varied the life of an archaeologist can be.
As the Oswestry battle continued, a similar fight was sadly being lost in the South West, in Bodmin.
We looked at the true definition of Heritage Crime and also peeked "Inside the Mind of…" Steve Hartgroves.
July
More inconsistencies of interpretation of sites in Wales were highlighted, and Sue Brooke returned to Caerau to update us on excavations there since Time Team visited in 2013.
We suggested 11 smartphone apps to help organise a field trip, and gave some thoughts on the decline of the PAS.
On a happier note, we wished a happy birthday to West Stow Anglo-Saxon Village (50 years young) and held our annual Megameet, at Avebury in the rain.
The stone rows at Colvannick and at Sharpitor West were also examined this month.
August
We looked at several ancient sites this month, including the Newport Leper Stone, Tinkinswood burial chamber and British Camp.  We reminisced about the first HA Megameet  and took a look at the Sharpitor NW  stone row in our ongoing series.
Two views of 'consultation' were taken, one from Wales,  the other from Shropshire.  And we highlighted three early tests for the new PAS structure. Unsurprisingly, they failed, as evidenced by our 'myth-peddlers' piece.
But the big event this month was a full week of questions  about  English  Heritage's  (mis-)management of Stonehenge.
The year concludes in tomorrow's installment.
by Alan S.
It seems to have come round far too quickly, but once again it's time for our traditional Review of the Heritage Journal Year.
This year seems to have been dominated by just a few main stories: the battle to save Old Oswestry Hillfort, the ongoing saga of the Stonehenge Tunnel and our continuing campaign against non-recording metal detectorists. But aside from these main stories, each of which featured in just about every month throughout the year, there was also plenty more to report upon and bring to your attention.
January
We began the year with our customary Resolutions, but sadly reading back it seems that once again, none were met. We pointed out that when it comes to some sites, interpretations come and go, and when it comes to hoards being discovered we suggested ways in which it wouldn't be necessary to immediately 'hoik' them out.
We're supporters of RESCUE, the British Archaeological Trust and loved the tricky questions they asked the political parties about Stonehenge.
Our look at Stone Rows continued by featuring Burford Down and Brent Fore Hill, and we continued to point out the scheduling administrative inconsistencies at Mynydd y Betws, a story which is still ongoing.
February
Oswestry launched their 'Hug a Hillfort' campaign, which was very successful, resulting in the ramparts being encircled by campaigners all holding hands on St Valentines Day.
Ringmoor Down  and Drizzlecombe stone rows were investigated, and we managed to obtain a couple of updates from English Heritage about the repairs to the Priddy Circles.
In an unusual move for us, we praised a statement from the National Trust. But unfortunately, information also came to light about damage to Stonehenge at the previous winter Solstice celebrations.
March
Continuing the theme of damage to Stonehenge, King Arthur Pendragon had a word to say about our views, but we also had a comment from someone in the emergency services about the mess and damage caused at the Solstice gatherings.
We looked at more stone rows at Drizzlecombe and documented another trip to Cornwall's ancient monuments, including Tregonning Hill, Tregeseal, Chun and Boskednan Downs, and the Three Brothers of Grugwith on the Lizard.
April
Our Cornwall holiday concluded with trips to Carwynnen Quoit, St Columb and Minions.  Speaking of St Columb, plans to build a wind farm by the Nine Maidens stone row were mooted – and recommended by Historic England! Luckily, the plans have so far been rejected.
Our occasional series posing questions to heritage professionals, "Inside the Mind of…" gained two new participants this month, in David Breeze and David Jacques.
We were very pleased to be able to serialise a paper courtesy of Dr Euan MacKie regarding the Sheep Hill hillfort and associated rock carvings, which are currently under a long-running threat of destruction.
Leedon Tor was our featured stone row this month.
We continue our look back tomorrow in the second part of our 2015 review!
Back in September the Environment Agency released a massive amount of open source LIDAR data for England and Wales. It is a bit patchy but we found LIDAR for ten well known (and not so well known) prehistoric sites. Your task over the Christmas break was simply to identify each of the sites.
So how did you do?
1.  Arminghall Henge, Norwich, Norfolk. 
2. Maiden Castle, Dorchester, Dorset.
3. Avebury, Wiltshire
4. Merry Maidens, Boleigh, Cornwall
5. Staden Enclosure, Buxton, Derbyshire
6. Stanton Drew, Somerset
7. Stonehenge, Wiltshire
8. Bryn Celli Ddu. Anglesey
9. Gamelands, Cumbria
10. Pen Dinas, Aberystwyth, Ceredigion

Have you investigated the data yet? What sites have you found?
All images are © Environment Agency copyright and/or database right 2015. All rights reserved
Back in September the Environment Agency released a massive amount of open source LIDAR data for England and Wales. It is a bit patchy but we've been through it and found LIDAR for ten well known (and not so well known) prehistoric sites. Simply guess the sites!
Feel free to leave your guesses in the comments. There are no prizes available, just megarak pride.
1. 
2.
3. 
4. 
5. 
6. 
7. 
8. 
9. 
10. 


All images are © Environment Agency copyright and/or database right 2015. All rights reserved
.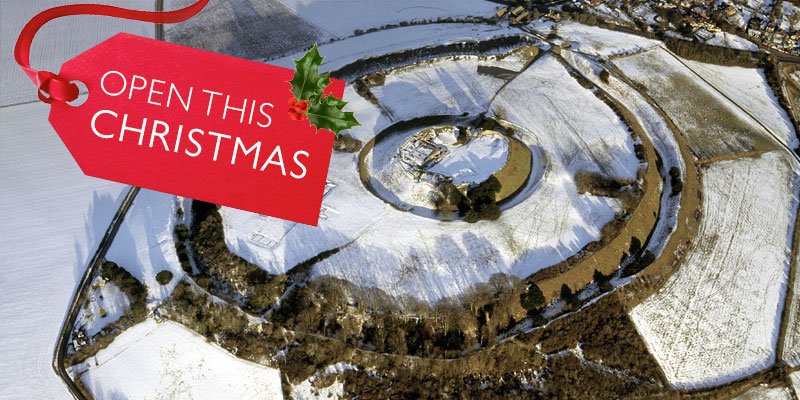 .
Looks just like Old Oswestry Hillfort. Yet treated with far more respect by English Heritage!
Old Sarum has two advantages over Old Oswestry. It has the sense to be in Wiltshire, where EH wouldn't dare to do what they've done in Shropshire. And it hasn't been a Rotten Borough since the nineteenth century whereas Shrewsbury patently still is.
#gawdknowshowtheycanlivewiththeirconsciencesthisxmas
In a word, yes (along with "Rescue"). Yesterday Shropshire Council voted unanimously to damage Oswestry Hillfort's setting, (inexplicably ignoring this overwhelmingly powerful last minute appeal). The Inspector had attached "great weight" to English Heritage's failure to stand up for the Hillfort, so effectively if it ends up done for it will be English Heritage that did for it. What a thought!
Meanwhile, this year Historic England has actively lobbied for the bulldozing of massive new dual carriageways over the World Heritage landscape at Stonehenge. Last time, when EH called for that 10 years ago, The National Trust fought against it tooth and nail.  This time, the Trust is supporting it (a u-turn it is still to convincingly justify, even to its own employees). The Government said the Trust's support had been "decisive" , so effectively  if it ends up done it will be The National Trust that did it. Another amazing thought!
By contrast The Campaign to Protect Rural England tends to be logical and consistent in it's attitude towards heritage protection (for proof see their recent masterful demolition of the Government's Green Belt "myths"). They urged Shropshire Council to "think again" on the Hillfort. They opposed the Stonehenge short tunnel the first time AND the second time. Unlike English Heritage ("We pursue the highest standards in all our work") and Historic England ("Championing England's Heritage") they always say what they really think, not what pleases the Government, and unlike The National Trust they never have a day off from their core beliefs.
__________________________________________
PS, if you wish to express your opposition and incredulity regarding The National Trust's ("Forever, for Everyone") and English Heritage's ("our role is guardians of Stonehenge") joint ambition to cause massive damage to the Stonehenge World Heritage Landscape you can sign the Stonehenge Alliance's petition here.
__________________________________________
PPS, Councillor Malcolm Price, portfolio holder for regulatory services, housing and commissioning, said: "No-one in this council wants to do anything that is detrimental to the hillfort, that's why we removed two of the sites from the plan."  If it was true that "no-one in the council wanted to do anything detrimental to the hillfort" they would have followed the advice of the national experts and removed the third one. But they didn't, so it's not true, is it Councillor Price? Please withdraw your false claim, it reflects as badly on you as some of the previous Leader's statements did on him and people in the wider world will think absolutely nothing has changed in Shropshire.
__________________________________________
PPPS, As "Chirkmabel" has pointed out in our Comments : "Shrops Council would have happily kept the first 2 sites for development if it hadn't been for all OUR efforts to campaign against them." It's true. They fought like tigers to keep the 2 sites, Councillor Price can't deny that, so his  words turn out to be blatant whitewashing of the reality. There's something absolutely rotten in the state of Shropshireland as Private Eye has now picked up on.  But just about everyone has realised that for some time. Now that Shropshire Council has risen above the metropolitan horizon could the time have come for an independent examination of its behaviour? Investigative reporters, judicial or legal bodies – feel free!

__________________________________________
(BTW, many years ago my father was on the old "Shropshire County Council".  He was immaculately honest all his life and he felt a very strong sense of duty to the public, as did his colleagues I believe.  He would be appalled to see what has been going on at the new "Shropshire Council". He would have told the press exactly what he knew and what he felt about the cowboyism, not kept totally quiet or actively denied it, as is mostly happening there now. )

__________________________________________
Tomorrow Shropshire Council will finally decide whether to damage the setting of Oswestry Hillfort. Many people will attend and the tireless "Hands off Old Oswestry Hillfort" has just issued them with a stirring call to arms  There's little we can usefully add except to wish well to all those who wish the hillfort well.
.
.
But maybe we could say one thing to the councillors, if any of them read the Journal. (They do!). It's this: HOOOH has said that the circumstances surrounding their Council Leader and his recent departure mean that if the councillors approve the hillfort estate the Council will be forever tainted with doubts over the integrity of its decisions. Nowhere are the reputations of all concerned more clearly shown to be in jeapardy than in the words which the Council Leader voiced in the press on behalf of the Council last June:
.
.
Yes, you read it right ladies and gentlemen of the Council! He said you knew the public opposition was huge so you decided to approve the development so that the public could better express its opposition! Well Councillors, that was outrageous, wasn't it? But now the public and its nationally prominent experts have taken up your invitation to express their opposition and they have done so in full – and in doing so have demolished every one of your pro-development arguments to a forensic level of detail. So perhaps now it's time for you to accept what everyone else can see and to begin to recover your reputations.  We sincerely hope you will opt to enjoy your first guiltless Christmas for years!
"I am told there are people who do not care for maps, and I find it hard to believe."

—Robert Louis Stevenson, Treasure Island
I have loved maps ever since I was a child. We are extremely fortunate in the UK to have access to some of the best maps in the world, those of the Ordnance Survey (O.S.). I recall learning the symbols used on the O.S. maps when I was a school – the deciduous and coniferous pictograms, the various dotted lines for different rights of way, those gothic script labels; 'Tumulus', 'Stone Circle' and the crossed swords of battle sites of old.
Through the years, many of these indicators have remained roughly similar, but the interpretation of some historical sites has changed as new information about them has come to light. Thanks to the wonders of the internet, we can compare some of the earliest maps from the O.S with today's versions and see how those intrepretations have changed. One excellent resource for this is the National Library of Scotland (NLS) which, depending upon the region, allows full view of historical O.S. maps dating back in some cases to the early-mid 1800's.
Indeed, preparing for my next Cornwall jaunt, and looking at an area in Cornwall that I'm familiar with on the OS 25 inch (1841-1852) map series, I was surprised to see up to seven stone circles referenced within a relatively small area of Truthwall Common in West Penwith on sheet 'Cornwall LXVII.14' surveyed in 1875 and published in 1878.
The same were still marked as 'stone circles' on the 1906 6 inch series maps, sheet LXVII.SW. Even as late as the 1938 survey, the 6 inch series was still marking the same features as 'stone circles'. On the One inch 'New Popular Edition' map of 1947, although the scale was much reduced, several stone circles were still marked in the area.
It is not until the One inch 7th Series map of 1961, which begin to look more like the LandRanger 1:50000 maps of today, that the 'stone circles' vanish at this scale – even the remaining Tregeseal Stone Circle is no longer shown.
However, moving in onto the 1:25000 scale map, published in 1959, the additional circles are still shown, but now suffixed 'Site of', suggesting they are no longer extant. Interestingly, the second Tregeseal Circle is still shown at this date.
That takes us to the limits of availability on the NLS site, but moving onto the current map of the area, available via Bing Maps or the Ordnance Survey itself (paid subscription required), the 1:25000 scale map shows only the single Tregeseal circle remaining.
So what of those 6 other stone circles? We know from antiquarian reports that the remaining Tregeseal Circle was one of three originally, but what of the other 4 (or 5)?
Returning to the Cornwall Interactive Mapping Service, which we highlighted back in October, it's possible to zoom in on the area to see what the Heritage Environment Record has to say about each site. And in this case we can see that the 'stone circles' of old have now been recorded as 'hut circles', enclosures, the kerb of a barrow, and remains of an Iron Age Round. So a real mixed bag, and not a stone circle to be seen!
It was an interesting exercise to compare the maps through the ages though, and is one I'll have to repeat in other areas of the country to see if similar discrepancies occur. Why not take a look at your favourite area, and see what you can discover on the old maps?