You are currently browsing the monthly archive for May 2022.

·
This is f…ing awful. Debasement.
Quote Tweet
Stonehenge
@EH_Stonehenge
· 1h
Our spellbinding homage to Her Majesty The #Queen!
We've projected eight portraits of Queen Elizabeth II onto Stonehenge in celebration of the #PlatinumJubilee

.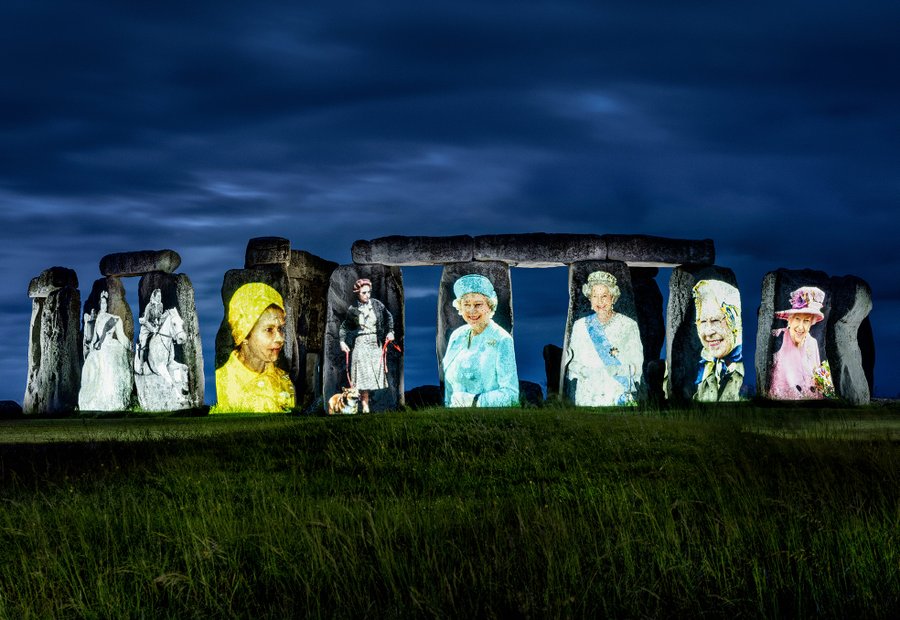 Update 31/05/22 From the Stonehenge Alliance:
Lots of similar comments on twitter: naff, debasing, disrespectful etc. What will be the reaction when they see the desecration that's planned?
The Head of Heritage Strategy at Historic England has just said that the majority of detectorists are law-abiding and report their finds.
There are two statements there. The first may be true, while the second is most certainly untrue. But they are linked with "and" as they have been for two decades by PAS, the police, hapless journalists and detectorists and have served to mislead landowners, taxpayers, politicians and the stakeholding public.
It's a terrible disgrace on a Johnsonian scale that has cost our country dear.
.
__________________________________________
More Heritage Journal views on artefact collecting
__________________________________________
Ten years ago we wrote …
"Proud to be British!
The recent "Neolithic marathon" along the Sarsen Trail was a huge success, attracting over two thousand participants. People came from all over the world to take part and as one of them said: "There's nothing like it in Australia. Where else can you run from Avebury to Stonehenge?"  (Beats us!)"
We agree with Mark Harrison, Head of Heritage Crime Strategy Historic England, who has just said that he does not like the term nighthawking: "It almost romanticises it, but they're stealing artefacts that belong to all of us."
We agree (although we disagree with his other point that the majority of detectorists reported their finds – that's just daft and defies both statistics and logic).
But our main objection to the term nighthawking is that it's not inclusive. If not reporting is stealing from all of us then MOST detectorists are nighthawks. Ooh, how dare we say that? Well, we'll desist if anyone can show it's not true.
We thought that as members of the public and stakeholders we'd tell PAS the same thing but on the PAS Twitter Account, Portable Antiquities @findsorguk, it says …

.
__________________________________________
More Heritage Journal views on artefact collecting
__________________________________________
Still happening: Historicide, the erasure of History.
Our article from 2 years ago. It still rankles, daily, especially when the police have just re-mouthed PAS's absolute falsehood that the great majority of detectorists are responsible …
___________________________________________________________
You can't get much meaner than removing traces of a country's history, obliterating its past. Yet, as the pandemic restrictions are eased, thousands are poised to pick up their metal detectors and do exactly that once again.
Yes, collectively they report many finds, and that's a dividend. But how does that compensate a country for collectively failing to report the rest? To claim a small gain makes up for a large loss is the maths of a fool.

And yes, the PAS has insufficient staff to record everything, but is it so impossible for them to be at least SHOWN what is found? Of course not, a brief look at seven artefacts an hour by each Finds Liaison Officer to pick out anything significant is perfectly possible – and indisputably desirable.
So British historicide is entirely avoidable. But instead we allow it and have coined a phrase to make up for the fact, "responsible detecting", meaning "the minority who report". If only we were honest and talked of "moral detecting", meaning "they who don't obliterate history". Calling a spade a spade would surely have done more good than more than two decades of pretending? Maybe, one day …
.
.
__________________________________________
More Heritage Journal views on artefact collecting
__________________________________________
THE team behind the Stonehenge tunnel will be taking a "chatty van" around the local villages next week to talk about the scheme.
The implication is that it is something that will simply be of local interest, something that is being reinforced by a small group of tunnel supporters, the Stonehenge Traffic Action Group who say the Stonehenge Alliance is coming up with "obnoxious" counter-arguments and "sending it to all their "followers around the world who are not in the least affected by the A303 at Stonehenge and don't have a clue where it is."
Not true. Huge numbers of people worldwide see the scheme as THEIR concern – and why not, Stonehenge and its landscape belongs to the whole of humanity, not just the locals. That being so it would surely be more appropriate if National Highways sent their ridiculous "chatty van" far beyond a small corner of Wiltshire to explain why they are damaging a world heritage site against the express wishes of UNESCO.
We were very pleased to see this on the Stonehenge Alliance Facebook page …
.
Why? Because that same message is already circling around a dwarf planet three billion miles away! See our article last year …
_______________________________________________________
Forever Written in the sky: an immortal Stonehenge rebuke
Spaceship Dawn is in the news just now. After a journey of 3 billion miles, it is now in permanent orbit around the dwarf planet Ceres and has just reported back the discovery of an enormous lake of saltwater.
Back in 2007 we successfully applied to NASA to have Dawn carry the simple message below into space where it will stay forever.
.
.
So it is to be hoped that those attempting to subvert the intentions of the World Heritage Convention and falsely spin a road project as a heritage enhancement exercise will sometimes glance upwards and reflect that what they are supporting is profoundly wrong. We suspect they all will.
The hapless National Highways Wriggling Department has come up with this beauty about the impact of their scheme at Stonehenge:
"Predicted overall CO2e emissions have decreased" due to an updated matrix which has an "updated fleet mix including the projected uptake of electric vehicles up to 2050".
Trouble is one of the main reasons English Heritage et al support the scheme is that there is noise and fumes from the road which reduces the experience for visitors to the stones. There's very little actually, but even if there was then for every additional electric car National Highways postulates there's an equal weakening of reasons for English Heritage's support!