You are currently browsing heritageaction's articles.
Recently we asked why treasure from a "charity" detecting rally wasn't benefitting the charity. Now the finder, Jason, says he will be donating a percentage to them "of course"! We like that, (even though he won't say what percentage) and we particularly like that he said "of course": it shows he knows it's something all charity rally attendees ought to do as fairness dictates that:

If a rally is marketed as "for charity" the charity should benefit from the finds.
It means those wanting a reward for finding treasure at a "charity rally" ought always to feel honour bound to also tell The Treasury how much of it they'd like sent direct to the charity. Let's call it Jason's Rule. It could be worth millions to the charity sector so if you know a charity that has lent its name to a rally (there are hundreds) do tell them about it. They could be making FAR more!

.
__________________________________________
More Heritage Journal views on artefact collecting
__________________________________________
At this time when there's a supplementary public consultation about minor changes to a plan which still flouts UNESCO's concerns, it's worth recalling that this all started with David Cameron

not

looking to enhance Stonehenge but to get

votes

– which meant the tunnel

had

to be short because short means cheap.
That reality hasn't changed. All else is flim-flam by the same archaeologists employed by self-interested charities or in receipt of Government funding or patronage who said his original plan would be good for Stonehenge.

So please respond to the current consultation
here
.
Let's make it impossible for Highways England to give Mr Cameron what he no longer wants.
To clarify yesterday's article, hundreds of farmers annually give permission for metal detecting having been told it's "for charity". Yet the finds never go to the charity, they go to the detectorists. In our 2011 article "Charity Metal Detecting Rallies: A racket exposed" we showed them up for what they are:
If communities are dead set on allowing the digging up of their local archaeological record to raise charity money (and they shouldn't be – let them ask PAS or any archaeologist in private what they think) they'd be vastly better off hiring a few detecting machines for their local amateur archaeology society to do it (although their ethics would hopefully preclude it).
That way, 100% of any government Treasure rewards could go to the charity, 100% of all the other finds could go to the charity and 100% of the finds would be willingly and accurately reported to PAS (making the exercise less damaging than any metal detecting rally in history!)
Let's hope it never happens but tell me Dear Reader, if avoidable archaeological damage had to take place would you rather it was on the basis that £2.3 million might go to a church restoration fund or to self-proclaimed history lovers every one of whom had signed a contract ensuring every single last penny went to themselves and not the landowner or charity?

The Establishment would never get involved in a stunt by a local community to dig up artefacts to raise money for charity. They'd see it as crass and uncivilised. Yet that's what they do in the case of charity detecting rallies.
.
A Roman enamelled gold ring has been found by a metal detectorist on a "charity" dig held on a known site at Crewkerne where a rare Roman lead-lined coffin had been found.
.
Permission for the event had been given on the basis it was "for charity" so the detectorist will be donating his share of any proceeds or reward to the charity.
We presume.
---
.
The Stonehenge Alliance points out that the a Parliamentary Committee has wondered when"biased but legitimate commentary" shades into "propaganda and lies". But we wonder if "biased but legitimate" can ever be acceptable for a public body dealing with Stonehenge? It sounds like propaganda to us – or worse. (Put "yowling" in our search bar to see what we mean.)
If you didn't know you'd think bodies with names like Historic England, English Heritage and The National Trust were on the side of the Stonehenge Landscape. But no, they've repeatedly spun and distorted the truth in order to persuade the public that a too-short tunnel is adequate – so even their names are fake news!
BTW, there's now a 2nd consultation (to comment, go here). Isn't that in itself an attempt to deliver fake news – because you may be sure, the response to the first was so negative it needed to be buried under a second one!
Professor David Gill is withering about the recent PAS-organised attack on Dr Sam Hardy's conclusions (that "laissez faire" doesn't work and that more than 90% of British recordable detecting finds may be being lost to science) : "Their unconvincing paper made an attempt to dismiss Hardy's careful research …Deckers et al. will need to revise their confrontational response." Who can disagree? Those receiving public funds have no right to deliberately downplay the degree of knowledge theft by an unregulated "hobby".  Here's just one example:
"It is true that a number of finds go unreported, even under a permissive legislation and with a recording scheme in place. However, his unreported information is not necessarily lost; often [artefact hunters] keep private records of their finds and finds locations […], many […] are open to collaboration and willingly give access to this information when asked by professional archaeologists, even if they ave not reported on their own initiative…."
So the message is that public should relax about the massive knowledge loss caused through 90%+ non-reporting because those who don't report in the first place are the sort of people who "often" reveal their finds years later. Logic and human nature suggest otherwise. Just how many instances of "often" exist – and if it's a miniscule proportion of the over 20,000 non-reporters per year Dr Hardy proposes we mere amateurs are entitled to ask why say it and what is the agenda here?
.
.
__________________________________________
More Heritage Journal views on artefact collecting
__________________________________________
The Portable Antiquities Scheme et al have outstripped themselves. For 15 years we've begged them to tell farmers the plain truth about the damage metal detecting does. But no…..
When they drafted a letter to landowners detectorists threatened to go on "reporting strike" because they hadn't been consulted about what it said! When the first metal detecting guide was produced PAS et al made the ludicrous mistake (rectified recently) of allowing detectorists to help – and surprise, surprise the text was virtually castrated and made out metal detecting was a boon to farmers and the nation.
Well, it ain't. (And if you ask a PAS employee in private in the pub they'll agree). In the last 15 years up to 9 million recordable artefacts may not have been reported and been lost to science.
So what has been the response? PAS et al are producing a leaflet for landowners called "Metal detecting on your land – know your rights". That's fine, albeit 20 years too late, but heaven help Britain they're doing it in conjunction with The Searcher Magazine! Take a look at that magazine. For conservationists, scientists or archaeologists it ain't. So you can bet for certain what that leaflet won't say – and what it will! Mr Landowner, throw open your gates! If a detectorist says he'll behave according to this booklet, he will! Look at the treasure on the front, yum yum! Metal detecting and metal detectorists are marvellous and do no cultural damage whatsoever.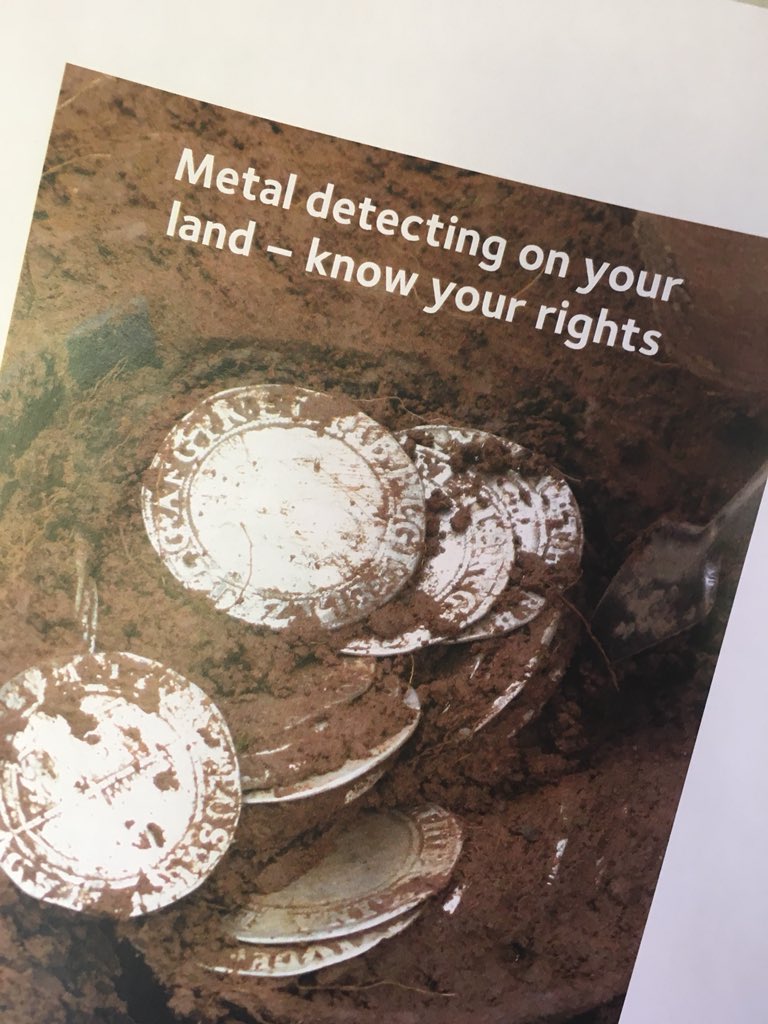 .
PS:
Your rights as a landowner are clear and can be fully expressed in 13 words: "all archaeological finds are YOURS (except the ones classed as Treasure, which aren't.") If a quango issues a whole leaflet saying any more than those 13 words you can be sure it is promoting the interests of metal detectorists (who have zero rights to any artefacts ever found, without exception), not yours.
__________________________________________
More Heritage Journal views on artefact collecting
__________________________________________
We were formed on 26 July 2003 (at The Uffington White Horse) …..
Since then we've featured many hundreds of threatened sites but we felt there was just one we ought to cover on our birthday – Stonehenge. Maybe you're confused by differing accounts of the short tunnel. But actually it's very simple, there are just three things you need to know:
.
1. The World Heritage Committee has just said: "The construction of four-lane highways in cuttings at either end of the tunnel would adversely and irreversibly impact on the integrity, authenticity and Outstanding Universal Value (OUV) of the WHS".
.
2. The Government, Highways England, English Heritage, Historic England and The National Trust are ignoring them.
.
3. Tom Holland has encapsulated the future consequences:
"I get that people may feel this isn't very important compared to Trump, Brexit, etc. But I predict that the desecration of the Stonehenge landscape, if we permit it, will echo down the centuries far more loudly than anything in the headlines today."
..
That's all. If you hear anything to the contrary you should treat it with grave suspicion. It will be to facilitate a road not to protect or enhance the Stonehenge World Heritage landscape. How could it be otherwise?

Back in 2007, the previous time the Government and its yes bodies planned to cause massive damage at Stonehenge we successfully applied to NASA to have the message Hands off Stonehenge carried into space on the spaceship Dawn.
Now, 11 years and 3 billion miles later the message  is still needed as another version of the destruction is being pushed by the same suspects (plus the hapless, rudderless National Trust this time). Here's a recent picture from Dawn, taken during a low pass over the dwarf planet Ceres:.
.
A spokesperson for The National Trust (might have) said: "Looks pristine. Let's keep it that way forever, for everyone – by driving a dual carriageway across it".