You are currently browsing the category archive for the 'Conservation' category.
In May last year an Archaeological Forum briefing predicted that given how deeply the EU laws are embedded in domestic law, any change "is likely to take many years, with many laws remaining in place for years or decades".
Since then however the mood music has been changing progressively and it's now clear that Brexit will mean less spending on environmental and archaeological protection. The EU habitats directive is to be repealed and there's scant hope it will be replaced with anything as effective. Already that nice Mr Gove has urged that we "Slash EU regulations on wildlife protection and drug safety trials after Brexit".
The House of Lords EU Energy and Environment Sub-Committee is very concerned. They say an effective enforcement system will be needed to fill the vacuum left by the European Commission but they lack confidence in Government intentions about that even though they had "heard evidence that 80 per cent of the public support at least the same level, if not higher levels of environmental protection post-Brexit."
.
Following our efforts to persuade the BM to stop portraying metal detectorists as "citizen archaeologists" we've been òffered the title of Citizen Conservationists! (Paul Barford, "Victory for reason"). We accept! Not for ourselves but for the tens of thousands of people who visit, research and study archaeological and historic sites and keep to the mantra "take only memories, leave only footprints".
A number of such people will be at our Megameet at Avebury Stone Circle this weekend. Not for personal gain and without any supportive infrastructure – no media savvy Whitewashing Department, no Culture Secretary saying they're heroes and no team of Liaison Officers tagging along, emphasising the positive and spinning the negative! There'll be nothing to spin at Avebury. Those people don't visit archaeological sites to take bits of them home in a bag. Nor do millions of others. Maybe the BM should start promoting them?
.
.
__________________________________________
.
.
__________________________________________
Volunteers team up with English Heritage on hillfort maintenance
Local love for a Shropshire heritage site is being put to good use through a progressive new volunteering initiative. 
Earlier this year on Valentine's Day, residents of Oswestry on the Shropshire/Wales border congregated on Old Oswestry hillfort in a symbolic hug of protection. Now they are turning their affection into hands-on support with the monument's maintenance under the supervision of its national guardians, English Heritage.
Members of the HOOOH Community Group, which is promoting local engagement in Old Oswestry's future, are recruiting volunteers to help English Heritage with landscape management and monitoring. Tasks will range from scrub clearance and pond maintenance, to taking fixed-point photos and supporting environmental initiatives to aid the hillfort's preservation and upkeep.
English Heritage is also keen to work with other local organisations including colleges with expertise and interest in undertaking potential biodiversity and animal management initiatives on the fort.
The scheme is one of just a few in England involving local volunteers in landscape maintenance combined with environmental and wildlife initiatives at an English Heritage site. It is hoped that the success of the partnering at Old Oswestry will pave the way to more volunteering of this type, especially at unstaffed and more remote properties.
English Heritage is the charitable trust which cares for over 400 historic monuments, buildings and sites across the country – it became separate from Historic England, the government service championing and offering advice on heritage, in 2015. As part of its mission as a charity, English Heritage is committed to including the wider community in its work and expanding opportunities for volunteers. Currently, around 2,000 people are involved with volunteering at some 50 of its 400 sites.
Volunteer involvement
HOOOH Community Group member, Neil Phillips, and heritage adviser, Tim Malim, recently met with English Heritage representatives to discuss the scope of volunteer involvement.
English Heritage has an established management plan in place for the hillfort, though recent wet summers have impacted on control of undergrowth, particularly around the 'ponds' or pits on the western side. New gates installed in 2015 have improved access for the landscape contractor. An additional log bench is due to be installed this year by the 'floating' path at the western entrance.
During a tour of the hillfort, plans were discussed for clearing overgrown areas, especially bracken, with minimal disturbance to wildlife. This would include an annual cutback of willow and woody growth in the winter, and control of bracken in the summer.
A newt and ecology survey was undertaken earlier this year to help assess what additional tasks can be tackled, and when, alongside regular grounds maintenance during the next 12 months. English Heritage will be updating its landscape maintenance plan to offer a range of opportunities for volunteers, including a programme of pond clearance this autumn.
Tim Malim said: "Managing the earthworks is a complex mission, with the need to balance several conflicting interests. Uncontrolled vegetation is a threat to the monument, and one of the best methods for managing this is through grazing the ramparts. But access to water and steep slopes make this difficult without unsightly fencing being introduced.
"Another balance has to be achieved between wildlife and the historic monument. There is a need to control the rabbit population and cut down scrub undergrowth and bracken, while maintaining habitats for newts and linnets at critical times in the year."
English Heritage West is responsible for over 135 scheduled and listed sites across a substantial area stretching from the Scilly Isles to Cheshire.  The Charity is keen to involve local groups and volunteers as "outreach caretakers" to undertake maintenance tasks and site monitoring.
As a first task, HOOOH volunteers have installed 'No Bikes' signs to deter bikers from scrambling over the 3000-year-old scheduled earthwork and causing severe erosion scars. Help is also being sought with a fixed-point photography project to document the impact of on-going maintenance work.
Before leaving, the English Heritage team visited the Artists Hugging the Hillfort exhibition at the Willow Gallery in Oswestry. With over 60 art pieces, including work by local school children, they were impressed by the local pride and strength of feeling shown for Old Oswestry.
Volunteer Neil Phillips said: "As one of many local people that have been inspired by Old Oswestry since childhood, this is a constructive and rewarding way to be more closely involved in its conservation. The HOOOH Community Group is proud to contribute through the volunteers' initiative, following the example of the town's archaeology and history groups, as well as the hillfort landscape improvement project, which have long championed the hillfort."
Anyone who would like to volunteer should contact Mr Phillips in the first instance on 07751 160576.
.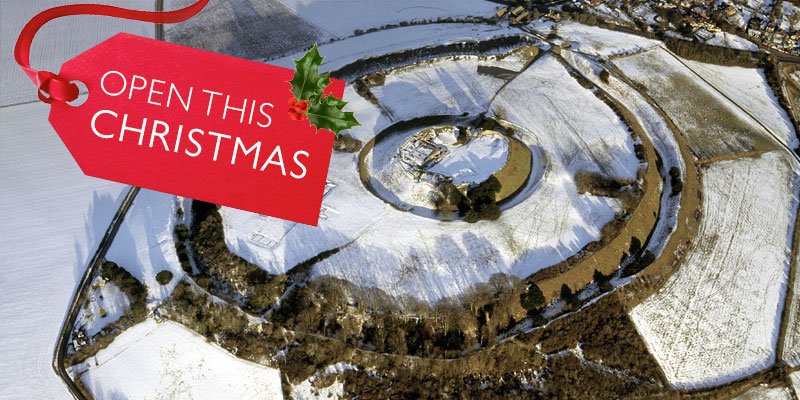 .
Looks just like Old Oswestry Hillfort. Yet treated with far more respect by English Heritage!
Old Sarum has two advantages over Old Oswestry. It has the sense to be in Wiltshire, where EH wouldn't dare to do what they've done in Shropshire. And it hasn't been a Rotten Borough since the nineteenth century whereas Shrewsbury patently still is.
#gawdknowshowtheycanlivewiththeirconsciencesthisxmas
In a word, yes (along with "Rescue"). Yesterday Shropshire Council voted unanimously to damage Oswestry Hillfort's setting, (inexplicably ignoring this overwhelmingly powerful last minute appeal). The Inspector had attached "great weight" to English Heritage's failure to stand up for the Hillfort, so effectively if it ends up done for it will be English Heritage that did for it. What a thought!
Meanwhile, this year Historic England has actively lobbied for the bulldozing of massive new dual carriageways over the World Heritage landscape at Stonehenge. Last time, when EH called for that 10 years ago, The National Trust fought against it tooth and nail.  This time, the Trust is supporting it (a u-turn it is still to convincingly justify, even to its own employees). The Government said the Trust's support had been "decisive" , so effectively  if it ends up done it will be The National Trust that did it. Another amazing thought!
By contrast The Campaign to Protect Rural England tends to be logical and consistent in it's attitude towards heritage protection (for proof see their recent masterful demolition of the Government's Green Belt "myths"). They urged Shropshire Council to "think again" on the Hillfort. They opposed the Stonehenge short tunnel the first time AND the second time. Unlike English Heritage ("We pursue the highest standards in all our work") and Historic England ("Championing England's Heritage") they always say what they really think, not what pleases the Government, and unlike The National Trust they never have a day off from their core beliefs.
__________________________________________
PS, if you wish to express your opposition and incredulity regarding The National Trust's ("Forever, for Everyone") and English Heritage's ("our role is guardians of Stonehenge") joint ambition to cause massive damage to the Stonehenge World Heritage Landscape you can sign the Stonehenge Alliance's petition here.
__________________________________________
PPS, Councillor Malcolm Price, portfolio holder for regulatory services, housing and commissioning, said: "No-one in this council wants to do anything that is detrimental to the hillfort, that's why we removed two of the sites from the plan."  If it was true that "no-one in the council wanted to do anything detrimental to the hillfort" they would have followed the advice of the national experts and removed the third one. But they didn't, so it's not true, is it Councillor Price? Please withdraw your false claim, it reflects as badly on you as some of the previous Leader's statements did on him and people in the wider world will think absolutely nothing has changed in Shropshire.
__________________________________________
PPPS, As "Chirkmabel" has pointed out in our Comments : "Shrops Council would have happily kept the first 2 sites for development if it hadn't been for all OUR efforts to campaign against them." It's true. They fought like tigers to keep the 2 sites, Councillor Price can't deny that, so his  words turn out to be blatant whitewashing of the reality. There's something absolutely rotten in the state of Shropshireland as Private Eye has now picked up on.  But just about everyone has realised that for some time. Now that Shropshire Council has risen above the metropolitan horizon could the time have come for an independent examination of its behaviour? Investigative reporters, judicial or legal bodies – feel free!

__________________________________________
(BTW, many years ago my father was on the old "Shropshire County Council".  He was immaculately honest all his life and he felt a very strong sense of duty to the public, as did his colleagues I believe.  He would be appalled to see what has been going on at the new "Shropshire Council". He would have told the press exactly what he knew and what he felt about the cowboyism, not kept totally quiet or actively denied it, as is mostly happening there now. )

__________________________________________
By Thelma June Jackson, Heritage Journal
.
After much delay, West Kennet Long Barrow has been closed for conservation work. The entrance is fenced off while a small team of what looked like three people work on the drainage and 1950s concrete skylight. I was over there on Monday and spoke to someone who said he was an archaeology-engineer. The work appears to being carried out with care and precision, has been jointly commissioned by NT and EH.
At the same time a very strong plastic webbing 'road' has been laid on the grass pathway leading up to the barrow and a portacabin is up there behind the fencing.
The Cornish Ancient Sites Protection Network (CASPN) is extremely active all year round, monitoring and looking out for many of the prehistoric sites on the West Penwith peninsular. Once a month they organise a clearup session, staffed entirely by volunteers, to cut back growth on designated sites and ensure they are not entirely lost to nature.
October's scheduled clearup coincided with my visit to the area, so I decided to once again go along and lend a hand. The designated site this month was the courtyard settlement at Bosullow Trehyllys, in the shadow of Chun Castle. The site lies on private land, so this was a chance to see a site that is not usually accessible to the public. I have been here once before, at a previous clearup session a couple of years ago, and it's a wonderful site.
When I arrived, the clearup was well under way with half a dozen people dotted around the site, clearing bracken and brambles away from the stones to more easily discern the layout of the buildings. As usual, Luna, organiser Dave Munday's dog was keeping a guarding eye out. Although she's a softie at heart, she has a ferocious bark and growl when any strangers approach, and I got the full treatment!
After saying hello, I took some time to look around the site, orient myself and take a few photos. It's quite a difficult site to photograph, especially when so overgrown. There's no real viewpoint to get an overall picture of the layout of the settlement – I'll have to invest in a drone one day…
Bosullow Trehyllys comprises of four identifiable courtyard house structures, with additional circular structures which may predate the courtyard structures. I was told that the settlement was much larger, but historical field clearance destroyed at least half of the original settlement. A large mound of stones in the adjoining field may attest to this.
Having had a look around, I was then put to work with a pair of shears, helping to cut back a section of one of the houses. I didn't go too mad, being a novice and not wanting to cause any unintended damage. All too soon it was time to pack up for the day, and the piles of cuttings were evidence of the work that had been put in during the day. A nice tradition was the goblet of mead passed between the participants at the end of the day, with a small libation for the site itself too.
If you find yourself in the area, check out the CASPN web site or Facebook page to see if a clearup is scheduled – there's one every month in Penwith, with additional clearups on The Lizard run by a separate team. It's worthwhile work, helping to preserve some of our largely forgotten heritage for future generations.
Can you guess who said this?
---
"I still find Stonehenge rather dull. When it comes to prehistory, I am more for picturesque Avebury or Brittany's stupendous Carnac. Wiltshire's henge is small and fragmentary, and I wish someone would replace the fallen lintels and fill in the gaps.
Another "Stonehenge sensation" this month revealed that the the henge had been a complete circle. Given its astronomical precision, why not put it back as intended by its builders? We do not leave sundials out of line or clocks without escapements. We know where the sarsens and bluestones came from. We rebuild churches and cathedrals. A reconstructed Stonehenge might make sense, and not just to archaeologists.
But there we go. Like Obama and the rest, I have communed too long and am probably going mad."
---
.
Someone in long flowing robes, high on a hill, hands outstretched to the moon? No, it was the NT's outgoing chairman, here just weeks before announcing he – and you – were going to support the short tunnel! But that was then and this is now and he has left and you haven't.
If you feel that supporting a short tunnel conflicts with the Trust's mission and spirit you'll be pleased to know it has just invited its members to say how it can stay true to its core purpose (could it be asking you to urge it to change its mind?) You can tell them at enquiries@nationaltrust.org.uk. If you like, you could mention that when they boasted on World Heritage Day that "we're proud to protect eight World Heritage Sites" you think they should have said seven!)
You could also follow Dan Snow's advice: "Great that the National Trust has given members a vote on the Stonehenge tunnel. Please help to Save Stonehenge"
If you're looking for something to do on this coming Bank Holiday weekend, the National Trust invites you to help 'Chalk the Uffington White Horse' May 3–4.
Once a year the famous Bronze-Age horse, that watches over the Vale of White Horse in Uffington, needs re-chalking. To take part, booking is essential, and can be done by calling 01793 762209.  30- minute time slots will be allocated to volunteers from 10am onwards. Car parking at the site is free for permit holders, NT members with valid stickers and disabled badge carriers. Otherwise, charges for up to two hours are £2.00, all day £4.00.
We're very pleased to be able to bring you, in serialised form, a paper courtesy of Dr Euan MacKie regarding the Sheep Hill hillfort and associated rock carvings, which are currently under a long-running threat of destruction. After a brief Introduction, part two discussed the Greenland rock carvings. We then considered the Sheep Hill forts. In this final part, we now look at the evidence for a link between the two sites, and what the future may hold.
Were the two sites linked?
The construction of the timber-framed dun is such an obvious explanation for the prehistoric damage suffered by the cup-and ring rock that it may reasonably be adopted as a working hypothesis, albeit one that has to be tested (below). One clear implication of it is that the great double disc symbol on a flat surface exposed by the ancient quarrying had to date to the 10th or 9th centuries BC at the earliest and this is extremely surprising if the majority of such rock carving took place in Neolithic times (Burgess 1990). Yet it is not impossible; such skills could have been handed down for many centuries by families of specialist carvers who could have practised their skills occasionally on existing carved rocks; it would probably be quite hard to detect such additions under normal circumstances. Also there is no doubt that the double disc symbol was known in the Late Bronze Age as it occurs on a few socketed bronze axes in Scotland and NE England (MacKie 1991, 147, pl. 10); these are known as the Sompting type (Schmidt & Burgess, 1981, 243-44).
However the most exciting aspect of this hypothesis is surely the social one. It is hard not to infer that the damaged and re-carved rock means that there were two distinct social groups in the area in the Late Bronze Age – namely the timber-framed fort builders and the descendants of the Neolithic peoples who had venerated the rock carvings for centuries and who retained some of their carving skills. The fort builders could have been a new elite – either local or immigrant but armed with new bronze weapons and evidently with little respect for the local traditions. The re-carving of the rock with a fine double disc after it had been badly damaged suggests a defiance of the new order but in a relatively harmless manner. A parallel with invading Normans and defeated Saxons might be appropriate. The phenomenon of Sheep Hill and the Greenland rock carvings is to my knowledge unique in the British Isles and the sites should surely be preserved for that alone.
Testing the hypothesis
Fortunately the hypothesis can be tested and clear proof of it could be forthcoming. If it is correct there should be on Sheep Hill many fragments of the heated sandstone of which the carved rock is formed, a few perhaps with cup-and-ring carvings on them. A thorough rescue excavation before Sheep Hill is quarried away should find this evidence. However I hope it will never come to that; it might be awkward for archaeologists to find such evidence who had been hired by Thompsons of Dumbarton, especially when there is a suspicion that it was such a group which in 2013 wrote (anonymously) and circulated an attempted refutation of my views on the two sites. In fact it would be easy to find the evidence without disturbing the interiors of the forts. There is just under the turf a vast pile of stone debris at the foot of the cliff-like northern side of the summit the lower part of which should be the debris of the timber-framed wall; it could be explored quite easily. It is already known that rocks were imported on to the site to build the timber-framed wall. Its boulder foundation was exposed during the original excavations and two of the boulders were identified as imports, one of quartzite and the other of sandstone (MacKie 1991, 146 & pl. 9).
A possible archaeological heritage trail at Old Kilpatrick?
If Sheep Hill can be preserved from being quarried, the cup-and-ring rock – now stored in the National Museums in Edinburgh – could eventually be re-assembled in its original position and this unique pair of sites could be brought together again. Alternatively a replica could be built there. The quarry's licence apparently expires in the early 2030s so their future should be safe after that. The existence only 2.5 km to the east of the western end of the Antonine Roman wall – now a World Heritage Site – suggests that the West Dumbartonshire Council could then organise what would surely be one of the most interesting archaeological trails in the country. Illus. 7 shows how it might be laid out; the numbered points on the map are identified below.
The fort at the western end of the Wall [1] is in Old Kilpatrick and, though excavated, is largely inaccessible under a housing estate. However a visitor centre could surely be set up nearby with a car park and could house some of the finds from the site and replicas of the Roman inscribed stones which were found there. A footbridge over, or a tunnel under, the dual carriageway immediately to the north (the A82) could be constructed to lead to the open ground there where the Antonine Wall and its ditch curve round to the east [2]; about 100m of it there might be excavated and reconstructed, thus providing (so far) an unique insight into what the northernmost frontier of the Empire looked like when it was intact. A footpath [3] could then run for 2.5 km westwards along the lower slopes of the Kilpatrick Hills up to Sheep Hill [4] with a short extension northwards to the Greenland 1 rock carvings [5]. Needless to say signposts and explanatory notice boards would be essential.
One intriguing aspect of such a tourist trail is that it could be presented as a step-by-step journey into the past. The Antonine Wall was built during the second Roman invasion of Scotland, from about AD 140 onwards, and was the northernmost formal frontier of the Empire in Europe. The fort at Old Kilpatrick defended the western end of the Wall where it ran down to the river Clyde and this may well have been the time at which the second fort on nearby Sheep Hill was abandoned – either out of caution or because it was attacked and destroyed by the Roman Army. Any future excavations could look for signs of that. Thus Sheep Hill 2 is a vivid example of a later native stronghold of the pre-Roman Iron Age. The primary timber-framed fort takes us back to the Late Bronze Age – perhaps in the 9th century BC – with all the various possibilities of the arrival of newcomers armed with bronze swords. We now know that cup-and-ring carving skills were very probably still present in the area at the time and were exercised then, possibly in defiance of the newcomers after the carved rock had been damaged by them. The original carved surface takes us right back to Neolithic times.
The present situation concerning quarrying.
Sheep Hill was scheduled as an ancient monument by the then Dept. of the Environment in 1970, after brief accounts of my excavations were published. I do not know when the cup-and ring rocks were scheduled but they were de-scheduled by Historic Scotland at the quarry firm's request, probably soon after 1984 when I was asked to record them. In 1994 the carvings were sawn off and taken to the National Museums of Scotland in Edinburgh. Sheep Hill was de-scheduled in about 2005, again at the quarry company's request. At a meeting with Historic Scotland in Edinburgh Thompson's representative apparently argued that there were no signs of human activity on Sheep Hill. My verbal assurances that there were, and the preliminary account of the excavations I published in 1976, were evidently not enough and a member of Historic Scotland was sent to the Hunterian Museum in Glasgow University to examine the finds and the records. Descheduling went ahead anyway, but the quarry failed to take advantage of this and the hillfort automatically became a scheduled monument again five years later. Now Thompson's have to re-apply for de-scheduling prior to quarrying and there does not seem to be any doubt this will be granted again; if it is not granted the quarry firm will demand full compensation and it seems that no-one is willing to pay this. One understands that Historic Scotland is expected to accede to what the Scottish Government wants and the Minister for Local Government and Planning – Derek Mackay – has made it quite clear that no compensation will be forthcoming from that quarter. The only obstacle now is that West Dunbartonshire Council now have legal powers to issue a ROMP (Review of Mineral Permission) in which it could set new conditions that the quarry firm would have to abide by – for example to limit the environmental damage in some way. The only realistic hope now is that the archaeological uniqueness of the sites becomes more widely known and appreciated, and that consequent protests from the public will cause the Minister to think again. In the year of the referendum for an independent Scotland it would be sad if the present Scottish government allowed the destruction of such a unique pair of Scottish sites.
Our foremost chronicler of prehistoric rock carvings in Scotland, Ronald Morris, wrote of the Greenland carvings, "This is one of the finest examples of these carved rock surfaces in Scotland." (1981, 103). It is surely nothing short of a national scandal that this priceless treasure was broken up and removed to make way for heaps of quarried rubble and I fully accept that I should have objected much more strongly about it at the time. The whole episode is an interesting example of how even professional archaeologists can simply assume that the public bodies that are supposed to protect our heritage are always able to do so. I have learnt the lesson and – being retired and less vulnerable – do not propose to let Sheep Hill go without vehement objections.
Bibliography
Bruce, J 1896 'Notice of remarkable groups of archaic sculpturings in Dumbartonshire and Stirlingshire', Proc Soc Antiq Scot 30 (1895-1896), 205-209.
Burgess, C 1990 The chronology of cup-and-ring marks in Atlantic Europe. Revue Archaeol Ouest, suppl. no. 2, 157-71.
Cowie, T (forth) Ceramic material associated with metalworking from Sheep Hill, Dumbarton. In MacKie forthcoming.
Davidson, J M 1935 A Bronze Age cemetery at Knappers, Kilbowie, Dunbartonshire. Proc. Soc. Antiq Scot 69 (1935-36), 352-82.
Davis, A 1991 Part 2: the metrology of the carvings. Pp. 150-55 in MacKie 1991.
MacKie, E W 1976 The vitrified forts of Scotland, in D.W. Harding (ed) Hillforts: later prehistoric earthworks in Britain and Ireland. Academic Press: London. 205-35.
–– 1991 New light on Neolithic rock carving: the petroglyphs at Greenland (Auchentorlie), Dumbartonshire. Glasgow Archaeol Journ 15 (1988-89), 125-56 (with A Davis).
–– 2008 The broch cultures of Atlantic Scotland: origins, high noon and decline. Part 1: Early Iron Age beginnings c. 700 – 200 BC. Oxford Journ Archaeol 27(3) (2008), 261-79.
–– forth. Trial excavations on Sheep Hill, West Dunbartonshire,in 1966-70; a possible timber palisade, a late Bronze Age timber-framed dun and a small Iron Age hillfort. Scott. Arch. Journ.
Morris, R W B 1981 The prehistoric rock art of southern Scotland (except Argyll and Galloway). Oxford.
Schmidt, P K & Burgess, C B 1981 The axes of Scotland and northern England. Prahistorische Bronzefunde, ab IX, band 7. Munich.
We are indebted to Dr MacKie for permission to help build awareness of this remarkable site.