You are currently browsing the category archive for the 'Damage and desecration' category.
Alcohol is to be prohibited at Stonehenge solstice celebrations!
No-one can deny it contributes to the all-too-frequent damage and disrespect so this is an excellent, heritage-friendly move.
We ask only one thing of EH:  please don't negotiate or compromise by even a thimbleful. A duty to protect is a duty to protect and shouldn't be subject to negotiation or requests to act otherwise by anyone.
From a correspondent
Whilst the particulars of the short tunnel route being prepared by Highways England remain undisclosed, a radical proposal for a combined bypass for Stonehenge and Salisbury has caused a stir. There is no lack of opinion, despite the lack of detail on exact routes for both proposals.
Imagine that at this point the neighbours of each of the sick relatives, along with the local M.P, take sides as to which operation should be performed on whom. Were this situation being played out in a reality TV show, media and wider public interest would be giving rise to questions. Why have the relevant authorities and now two charities issued a joint promotional film pushing for a particular operation that would not be the best outcome for a patient in their care? Why are all so focused on an operation for just one of the patients when both could benefit from a common operation? Why are stances being adopted that aren't in the best interests of all of those in need?
The apparent wish list for tackling traffic congestion either side of Stonehenge appears to include the following: road safety and improved traffic flow, faster journey times between London and the West Country, reduction of rat-running, and the financial cost and effect on the local, regional and national economies and, last of all and not first as it ought to be, impact on the Stonehenge World Heritage Site. What isn't on this list at all is eradicating the current free view of the stones to enhance the milking of the English Heritage Trust's cash cow, removing a strip of tarmac from National Trust land in invitation to establish their own visitor centre, saving the local M.P. from a fall-out with his party's whips or giving David Cameron a send-off without a U-turn.
Whether the combined Stonehenge/Salisbury bypass operation is adopted as a sound idea or not, far into the future it will enter the history books as marking the point at which important questions arose. Will the answer to those questions ultimately be that this present generation were largely only interested in themselves?
We have been invited by Doug Rocks-McQueen to once again participate in the Archaeology Blogging Carnival. This year's theme is 'Archaelogy's Greatest Challenges', and so we herewith humbly submit our own contribution:
It's no secret that in 2016 and beyond the short tunnel debate will become progressively more passionate and complex. However, there's a fundamental truth looming over it that hasn't been fully debated but which will have to be properly addressed. It's that under Article 4 of the World Heritage Convention Britain has committed itself to the protection and conservation of the whole Stonehenge World Heritage Site.  "Protection" is the action of protecting, or the state of being protected and its antonyms are harm and destruction. "Conservation" is the act of preserving, guarding or protecting and it has exactly the same antonyms, harm and destruction.
You will have heard (from EH, NT et al) lots of talk about a "once in a generation chance" and enhancing, improving and restoring, and about minimising new damage and delivering a better situation for traffic, pedestrians and skylarks. But there's a fundamental unvoiced problem. None of those aspirations, whether they're beneficial or not, is protection or conservation and it's an undeniable fact that no matter how or where a short tunnel is designed or positioned it WOULD involve substantial harm and destruction, which are the antonyms of protection and conservation.
Hence, it's surely the case that if we wish to abide by the Convention we simply can't build a short tunnel (or indeed construct surface dual carriageways). On the other hand, if we are determined to go ahead we'll have to ditch the Convention. Or flout it. Or use fancy words to lie about what we thought it meant when we signed it. Anyone who has followed what EH and The Trust have been saying will know that process has started, with frankly partial and selective accounts being employed to win the public over.
It would be great if 2016 saw a rising tide of archaeologists, lawyers and others saying hang on a moment, have you actually read what the Convention says? The Stonehenge Alliance has already done so and the CBA and others – notably ICOMOS UK, have indicated that they are very troubled about how building a short tunnel can be reconciled with our Convention commitments. It's likely they will need a lot more than lyrical words and videos to convince them a short tunnel is supportable.
It would be easy to justify building a short tunnel if the Convention was ambiguous. But it's all too clear, so we anticipate that some desperate tactics and interpretations will be put forward. A compliant Attorney General and a dodgy dossier are not unknown in our recent history, so who knows? Something reminiscent of a dodgy dossier at least, seems already to exist – the scary and false claim that if a short tunnel can't be had a surface dual carriageway may be imposed. Fortunately the Stonehenge Alliance has utterly discredited that, rather forensically!
Nevertheless the short tunnel agenda has many powerful supporters and we can anticipate all sorts of claims. In particular, look out for a re-working of the Vietnam war quotation, "It became necessary to destroy the town to save it". We are confident a version of that will be voiced: "It was necessary to cause damage to the World Heritage Site in order to unify and enhance it." Unfortunately for the short tunnel supporters the Convention doesn't offer the option to interpret its provisions creatively merely because to do so would be financially convenient. No matter how it is dressed up a short tunnel would break the solemn promise we've made to the world.
A design consultant has just been appointed to develop "a preferred option" at Stonehenge. That sounds innocuous but it's the opposite. Their remit is limited to examining which short tunnel would be best not which option would cause no damage (and who in their right mind wouldn't say that was preferable?)
So it's beyond dispute that to establish the term "preferred option" in respect of a limited number of options all of which will be massively damaging, is to mislead the public, to put it politely. It cannot be "preferable" to flout the World Heritage Convention, especially with the aid of cheap linguistic tricks worthy of a banana republic.
It is to be hoped that this attempt to manipulate the debate so as to confine discussions to unacceptable options not options that are best for the World Heritage Site will be seen for what it is. In particular, let ICOMOS UK and UNESCO stand fast in support of the Convention and the whole WHS and let the public understand that although they will hear the phrase "the preferred option" many thousands of times in the coming years it's literal meaning is "the preferred unacceptable option".
.
Three years after it was written the report on the work carried out at the Bancbryn stone alignment has been released. You can see it for yourself here and a response to it here. Despite promises that only 10m of the alignment would be destroyed and that it would be treated as if it was prehistoric, this does not appear to have happened.   Around 35m of the stone alignment was finally destroyed and of this only 5m was excavated, the rest being lost with no record being made at all as a result of a mix up regarding its course. As if this was not bad enough the report's conclusions are consistently contradicted by a catalogue of mistakes, exaggeration and the use of blatantly biased carefully selected information. Much has been made of the fact that the excavated stones were not associated with sockets, however in at least one photograph a large stone appears to sit within a cut and another one is on top of an unexcavated hollow.
The reasons for doubting the prehistoric interpretation are remarkable. Apparently the Bancbryn stone alignment can't be prehistoric because the stones are of variable size, small, embedded into the subsoil and the alignment itself is sinuous in form. So there we have it after years of waiting we have finally been told that it can't be prehistoric because …. well err…. it shares precisely the same characteristics as most of the scheduled stone alignments in the United Kingdom. This would be laughable if it was not so serious.
.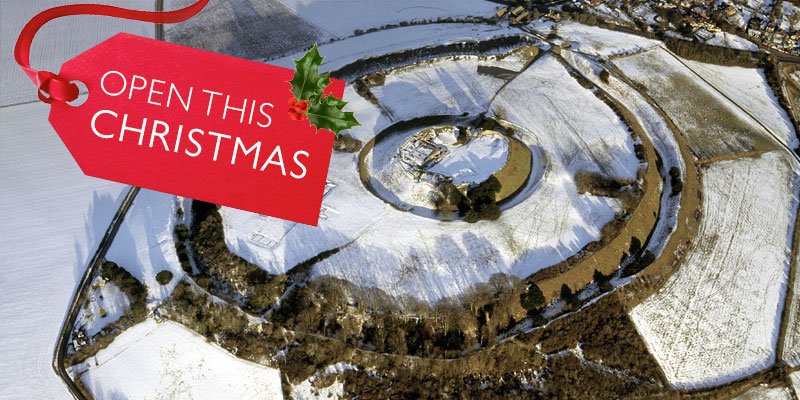 .
Looks just like Old Oswestry Hillfort. Yet treated with far more respect by English Heritage!
Old Sarum has two advantages over Old Oswestry. It has the sense to be in Wiltshire, where EH wouldn't dare to do what they've done in Shropshire. And it hasn't been a Rotten Borough since the nineteenth century whereas Shrewsbury patently still is.
#gawdknowshowtheycanlivewiththeirconsciencesthisxmas
The Boslow inscribed stone in West Penwith stands at a crossroads of very ancient trackways – the overgrown one stretching away into the distance in the photo below is the Tinners' Way, or Old St Ives Road, which is at least 4,000 years old and links St Just to St Ives 14 miles away and across the top of the Penwith Moors. It's also right on the boundary of St Just and Sancreed parishes.
First mentioned in the Corpus of Early Christian Inscribed Stones of South-west Britain [1] `the stone was found in the summer of 1877 by G.B. Millett on the moor 'under Carn Kenidjack', the Cornwall Heritage Environment Record describes the stone thus:
An inscribed stone is marked at the location on current OS maps. It is situated in 'Water Lane' above Boslow and is on the parish boundary between Sancreed and St Just. On the front of the granite stone is an inscription 'TAET VERA' in two lines reading downward, and a peculiar cross with a looped transom. On the rear face is an incised cross (described by Macalister as a "cross potent"). The stone measures 4ft (1.22m) high and 1ft 2in (0.36m) by 1ft 1in (0.33m) wide. A site visit by the OS revealed that Macalister's description of the stone appears correct. It stands on the north-east side of a small (probably modern) mound. The monument is included in the Schedule.
A 3D rendered model has recently been produced by Tom Goskar, and is available to view on the SketchFab site. The stone is thought to be in its original position at the head of a stone-lined grave and bears a single name which can only be read at midday when the sun is exactly in the south: TAETVERA. This is Latinised 7th century Cornish: Taithuere, "exalter of the journey". The grave and mound have never been excavated and therefore provide one of the oldest known intact graves with a named occupant. A ground plan can be seen in issue 30 of Meyn Mamvro magazine, issue 30.
There has been some recent discussion of the stone on Facebook, where Cornish historian Craig Weatherhill supplied the following information:
A contemporary incised cross on the southern face of the stone, and Alpha-Omega symbols under the inscription, indicate that this is the grave of an early Celtic priest, but which one? "Taithuere" could be a "name taken in religion", e.g. Wynfrith became St Boniface; Magonus was the birth name of St Patrick; and every Pope in history has done it, too.

Was there a local priest of this era who was known for taking himself off on frequent journeys? There was: St Just himself, actually a man called Yestin, who also journeyed to his other churches at St Just in Roseland and Gorran Haven, while there are tales of his visits to St Achebran at St Keverne. Then there's the name of this stone in 1613: Crowze East (crows Ust, "St Just's cross"). Is this the gravestone of St Just?

Yestin (St Just) was a son of King Gerent I of Dumnonia. His other two sons were Selyf (St Selevan), and Cado who succeeded him as king. Gerent I is known to have flourished at the end of the 6th century, so the mid 7th century date for the inscription on this stone would fit a son of Gerent perfectly. Selyf had a son Kybi (St Cuby, Tregony; also the St Kybi of Llangybi, Anglesey). Celibacy was not required of ordinary priests until the 12th century.
Sadly, it seems that the stone (and grave) is now in danger from modern farm machinery as a recent picture shows that deep rutted tracks have been made very close to, and over the grave.
Discussions with the landowner and Cornwall Archaeology Service are under way, and we can only hope that there will be a successful conclusion to those negotiations that will secure the future of the stone and grave.
News reached us last week that The Portman Hunt had been written to by the National Trust amid claims it's horses and hounds damaged Hambledon Hill after the Hunt "left the recognised bridleway and came across the hill". A National Trust volunteer was even quoted saying "They have now twice been guilty of blatant and wilful damage to a scheduled ancient monument. What, I wonder will it take to make them actually take real notice?"
Lest the National Trust or others are unaware, wilful damage of a scheduled Ancient Monument is a criminal offence in this country. So why on earth are the National Trust pussy footing around with letters when they should be straight onto the police? A quick internet search shows the hunt isn't exactly a paradigm of virtue so its explanation that they merely "left the track to round up some dogs." should be taken with a hefty pinch of salt.
After all its not even as if its a first offence on this site, photographic evidence of Portman Hunt members bombing about the hillfort on quad bikes exists from a previous time as you can see below.
Those of you with long memories will recall we highlighted a different hunt last year who decided riding multiple horses over a barrow was appropriate. A trend of disrespect and contempt?
The modern archaeological industry is built upon the premise that sites selected for destruction should be recorded before they are destroyed. Following excavation the record is then deposited and the site is  consequently "preserved by record". At Mynydd y Betws the Bancbryn stone alignment was promised such treatment. Sadly whilst the first part was apparently completed the second was not. Carmarthenshire County Council have over the years been repeatedly asked for a copy of the excavation report and whilst most of these requests went unheeded recently a response was received.
"I have not had sight of any such report as part of my investigations, although I do not consider that it has undermined the fact that works have been carried out with due diligence within the development site, and that the condition imposed on the planning consent, and the reason for it, has been discharged in a way that is, on balance, proportionate and pragmatic".
Basically they are saying that a report was not produced but this does not matter. What happens next time a developer says they will not fund the post-excavation. Carmarthenshire County Council have already set a dangerous precedent. For a site to be preserved by record there needs to be record otherwise the site has simply been destroyed and no amount of fine words will alter that fact.
To be clear a preliminary report was produced, but this included no photographs or drawings of the excavated areas. Instead photographs and drawings were limited to the areas beyond the excavation. How many modern excavation reports include only images of the areas beyond the area being investigated and none of the excavation itself?
An anonymous contributor writes:
"Sorry dear" I muttered quickly to my wife just after I entered the field at Castlerigg a few months back. My eye had caught the arc of a foreign teenager leaping from stone to stone. As I strode across the 50 or so yards to the circle, I took in the full visage; 15 or so teens with a couple of teachers, 7 or 8 of the teens climbing on several of the stone, having their photos taken, leaping up on the stones and then off them. The teachers chatting between themselves, obviously content to find something, anything to divert their charges attention enough so they could find 10 minutes respite. I shattered their peace fast and hard.

"WHAT THE HELL DO YOU THINK YOU ARE DOING? GET DOWN OFF THE F'ING STONE. THESE ARE NOT A PLAYGROUND, THEY ARE AN ANCIENT SITE, SHOW SOME F'ING RESPECT."

The 3 closest too me looked shell-shocked and one almost fell off the stone he was perched on. I stood and glared as they cleared off and then pivoted looking for more offenders. 2 on the far side hadn't heard me or the alarm calls of their compatriots and were lazily enjoying their day. I set off at a rate of knots, my gander well and truly up, however the teachers protective nature had kicked in and I was headed off at the pass by one whilst the other gathered the horde and led them away from the circle and the dishevelled manic hippy articulating wildly.

And that should have been that with the mumbled apologies of a shocked teacher disappearing into the distance, except, the day had a slightly bitter twist for me. A well dressed chap who'd been stood watching the debasement when I turned up, sidled over to me and said "I'm glad someone said something, disgraceful behaviour". Well yes indeed, I'm very glad I said something. But I'd have been happier still if he'd said something first. if he'd stepped up out of his British reserve and said "Stop it. Your behaviour is unacceptable".
That's our takeaway. Don't stand by and tut whilst people climb on stones, drop rubbish, draw on stones with chalk, leave offerings or even carve their name in a stone. Step forward, defend your heritage, be the person that stopped it today. There won't always be an enraged hippy to do it for you.