You are currently browsing the category archive for the 'Planning applications' category.
For one night only, Hillfort Live! is reinventing the tribute act for the 21st century, by taking it all the way back to the 3rd century – BC.
At Oswestry's Hermon Arts Centre on February 13, the Iron Age will become the new rock and roll for an evening of entertainment celebrating Old Oswestry.
Expect the unconventional as musicians and performers doff their artistic hats to Oswestry's iconic hillfort, recently dubbed the 'Stonehenge of the Iron Age'.
The eclectic programme of music and performance, with a tinge of comedy, is part of the Old Oswestry Hillfort Hug Weekend organised by campaign group, HOOOH, and running February 13 to 14.
The line-up includes The Improetry Collective, a collaboration of musicians with Neil McKeown performing classic poetry with a hillfort twist.
There will also be improvised drama making reference to the hillfort from Pimp$ouls, aka Terry and Dru Cripps. Newly formed Oswestry Jazz Orchestra will be performing modern jazz and improvisations.
Old Oswestry textures will also feature in original tracks written by Guy Turner, and the Iron Age meets electronica and drum and bass in compositions performed by producer, Envelope.
In 'An Audience with Old Oswestry', musician and T-shirt philosopher, Neil Phillips, will take an alternative look at the hillfort's current woes over planned housing in its back garden.
This prehistoric night out to remember starts at 7.30pm and admission is free.
More details at www.hermon.org.uk or ring 01691 670003.
Two images of hundreds of protestors at a hillfort. Can you spot the crucial difference?
Well, the top one is the surroundings of Cissbury Rings, West Sussex and the lower one is Oswestry, Shropshire. But the difference is more than that. At the top one the Council promptly listened to the democratic voice and abandoned its sell-off plans. At the bottom one Shropshire Council not only ignored the democratic voice but also the combined voices of a host of national and international experts.
For reasons it still hasn't explained it insists that a County with less than half a million people and 860,000 acres to choose from MUST build houses on one particular tiny spot where it will do maximum damage.

Back in November we highlighted another instance of heritage being safer in West Sussex than Shropshire) which prompted Oswestry Hillfort campaigner Dr George Nash to write: "I have just asked the Chairman of West Sussex Council if Old Oswestry Hillfort and its surrounding landscape can be incorporated into West Sussex. We want this ancient site to be administered by a useful, honest and progressive cultural heritage team".  The above two pictures illustrate why that would be a damn good thing.

From a correspondent
Whilst the particulars of the short tunnel route being prepared by Highways England remain undisclosed, a radical proposal for a combined bypass for Stonehenge and Salisbury has caused a stir. There is no lack of opinion, despite the lack of detail on exact routes for both proposals.
Imagine that at this point the neighbours of each of the sick relatives, along with the local M.P, take sides as to which operation should be performed on whom. Were this situation being played out in a reality TV show, media and wider public interest would be giving rise to questions. Why have the relevant authorities and now two charities issued a joint promotional film pushing for a particular operation that would not be the best outcome for a patient in their care? Why are all so focused on an operation for just one of the patients when both could benefit from a common operation? Why are stances being adopted that aren't in the best interests of all of those in need?
The apparent wish list for tackling traffic congestion either side of Stonehenge appears to include the following: road safety and improved traffic flow, faster journey times between London and the West Country, reduction of rat-running, and the financial cost and effect on the local, regional and national economies and, last of all and not first as it ought to be, impact on the Stonehenge World Heritage Site. What isn't on this list at all is eradicating the current free view of the stones to enhance the milking of the English Heritage Trust's cash cow, removing a strip of tarmac from National Trust land in invitation to establish their own visitor centre, saving the local M.P. from a fall-out with his party's whips or giving David Cameron a send-off without a U-turn.
Whether the combined Stonehenge/Salisbury bypass operation is adopted as a sound idea or not, far into the future it will enter the history books as marking the point at which important questions arose. Will the answer to those questions ultimately be that this present generation were largely only interested in themselves?
The love just grows and grows for Old Oswestry hillfort.
Shropshire councillors may have voted to throw open its ancient landscape to development, but defiant residents will be scaling its ramparts on Valentine's Day in a hug of protection for the Iron Age icon.
Following the success of last year's inaugural hug, campaign group HOOOH is staging a weekend of events embracing the archaeology and landscape of one of Britain's most celebrated hillforts.
Running February 13 and 14, the Old Oswestry Hug Weekend will include a heritage seminar, craft workshops, art exhibitions, music event, as well as a mass hug of the hillfort itself.
Expanding on its well-received seminar in 2014, HOOOH will be hosting a full day symposium in Oswestry's Memorial Hall on Saturday 13 February.  Invited speakers will explore Old Oswestry's multi-faceted archaeology and heritage landscape as well as modern-day planning threats to it.
The hillfort hug will take place from 1pm on Sunday 14 February, culminating in a procession along the ramparts with lights and drums. It attracted over 450 people last year and was supported by a national social media campaign, #hugyourheritage, created by the Council of British Archaeology.
HOOOH is also delighted to announce that the hug event is being supported by a number of local artists with an exciting series of exhibitions under the banner 'Artists Hugging Old Oswestry Hillfort' (AHH!).
Members of art groups, Inside Out Art and Borderland Visual Arts, are busy creating artwork, including paintings, sculpture, textiles and jewellery, inspired by the 3,000-year-old monument and its landscape. Many will be on display in time for the hug weekend.
From February 1 to April 4, Oswestry's Heritage & Visitor Centre will be showing an exhibition of AHH! work entitled 'Views of, and on, Old Oswestry Hillfort'.
Oswestry arts venue, Hermon, will also be showcasing a number of AHH! installations during February and will be hosting drum and light-making workshops on February 6 and 13. It is also staging 'Hillfort Live', an evening of 'hillfort-centric' music and performance on February 13 from 7.30pm.
A third exhibition will run at Oswestry's Willow Gallery from April 23 to May 21, incorporating photos and film of this year's hug.
Campaigner Dr George Nash said: "This is yet again another extremely visual display by the people of Shropshire and the Borderlands showing their support for this iconic monument. Let's hope Shropshire Council with its new leader can see and hear what the people are saying, which is simply 'No' to development."
Llanarmon-based artist Diana Baur, spokesperson for AHH!, said: "Local artists are making works that reference the hillfort, visually expressing its importance for future generations and the fight to protect its setting. Plans are being laid for the exhibition to then travel further afield linking to other areas where our national heritage is threatened."
HOOOH is campaigning against the reassignment of the hillfort's eastern hinterland – and heart of Oswestry's heritage gateway – for an estate of 117 houses. Despite overwhelming opposition and calls from the highest echelons of British archaeology to reject the development, it was recently approved by Shropshire Council on the SAMDev local plan.
*Anyone interested in stewarding at the hillfort hug can contact HOOOH on 01691 652918 oroldoswestry@gmail.com
This Sunday there's a metal detecting rally just south of Oswestry. Not near the setting of the hillfort you understand, detecting is forbidden  there……
…. which is strange, as an archaeological report on the land reckoned: "The owners of Oldport Farm confirm that their land is often combed by metal detectors who informally report finds of musket balls, presumed to date to the Civil War period". Often combed by metal detectors, eh? Yet now they're banned. Pourquoi? Supply your own theory, but here's mine: "someone" doesn't want anything found that might put a spanner in the money-making works, things like important archaeological artefacts and evidence that might prompt talk of protecting the land from development!
You won't have heard that from officialdom though. Not in their remit, see. Although, you might hear some of them quietly singing …
If you wake at midnight, and hear a horse's feet,
Don't go drawing back the blind, or looking in the street,
Them that ask no questions isn't told a lie.
Watch the wall my darling while the Gentlemen go by.
Not that "someone" needs to worry that detectorists might mess things up. The Portable Antiquity Scheme recently admitted they think 70% of detecting finds don't get reported to them and there's no reason to think things would be different in Oswestry. Indeed, I refuse to believe that a bunch of detectorists who kept coming back often were only finding a few musket balls and nothing else. Unless they were all insane. Which I doubt.
However, getting permission to build houses in a scheduled monument's setting involves attending to every detail, including trying to ensure no-one picks up (literally) anything that might ruin everything. Thus, it's not just detectorists but human beings that are banned from the land and it's worth noting there's STILL a notice  about not stepping off the path because of chemicals. (Still? Really? Is this Chernobyl?)  As a result, we have this bizarre spectacle …..
[Image Credits: huwdavies.photo@btinternet.com and HOOOH]
A design consultant has just been appointed to develop "a preferred option" at Stonehenge. That sounds innocuous but it's the opposite. Their remit is limited to examining which short tunnel would be best not which option would cause no damage (and who in their right mind wouldn't say that was preferable?)
So it's beyond dispute that to establish the term "preferred option" in respect of a limited number of options all of which will be massively damaging, is to mislead the public, to put it politely. It cannot be "preferable" to flout the World Heritage Convention, especially with the aid of cheap linguistic tricks worthy of a banana republic.
It is to be hoped that this attempt to manipulate the debate so as to confine discussions to unacceptable options not options that are best for the World Heritage Site will be seen for what it is. In particular, let ICOMOS UK and UNESCO stand fast in support of the Convention and the whole WHS and let the public understand that although they will hear the phrase "the preferred option" many thousands of times in the coming years it's literal meaning is "the preferred unacceptable option".
.
Sue Brooke updates us on the latest threat to Caerau hillfort in Cardiff. This story was originally published on her own website. 
Well, here I am again. Mrs Angry from Caerau has raised her ugly head once more. Over the last nine years or so I have bored everyone close to me to distraction about that triangular shaped field in Caerau. It's important. I used to spend hours wandering around up there trying to figure out what all the lumps and bumps were about. I researched it and learned loads about what it all meant. I kept the whole thing as quiet as possible from the public domain so that the area would remain protected due to it being preserved mostly in public record at that time. Eventually I started to share some of this locally, working with the children and young people of the local schools. This was primarily to keep the crumbling remains of St. Mary's Church as safe as possible.
Then along came Cardiff University. To be honest they were a little behind me in this research but, eventually and not without some fear I talked with them about it. They had lots of money that they were willing to invest in this area and they were able to engage with the public in far greater ways than me. Eventually this triangular shaped field of 'mine' was to be given a little bit of status as an Iron Age (at least) hill fort.
If you know about this then you will know that hot on their heels came Time Team. They came, they made a mess and a telly programme then they left. All stuff designed to give this little old lady in Caerau a little bit of the wobbles. I had massive reservations about all of this. I was accused of 'selling out' by allowing myself to become involved in this. Overall my fears were allayed and, although the area has been mucked about with by young ladies and young men digging holes, it has actually been really beneficial to the local communities of Ely and Caerau. Cardiff University formed the CAER Heritage Project and they worked their socks off in order to engage residents in the whole of their work. What Time Team did, on your 55 inch flat screen telly, was to tell the whole of Ely and Caerau what an amazingly valuable historical monument they lived alongside. Thank you for that.
The church of St Mary, long a victim of vandalism was now being looked after. There are people involved in this who have pursued Cardiff Council and persuaded them to help keep the remains of this historic building together. They have given up their time to tidy up the area, to log the graves and to generally give this church the respect it has so sadly been missing out on.
Overall the community has benefitted. The view from the hill fort is amazing when you look out towards Cardiff. The CAER Heritage Project believe this to be an area that would have been important to Cardiff itself. Of course, my endless research means I disagree with this – not entirely but my belief is and always has been that the hill fort would have been more better placed as part of what is now the Vale of Glamorgan and valued as such.
A few years ago changes began to happen. A solar park was to be built quite close to the site. It would be fine, we were reassured. This won't be visible from the hill fort and will not detract from the beautifully serene surrounds one bit, they said. Unfortunately the building of this solar park caused some major issues for those living on the approach road. Let's set this in to some kind of context. As you walk toward the track that leads from Caerau all the way to Michaelston le Pit you will need to walk underneath the A4232 Ely Link Road. Sadly, way back at the end of the 1970's this road was built by cutting around the hill fort site. It's no longer possible to walk up-and-over as we used to as kids, but hey, way back then we didn't really know any better, did we?
This bit of Caerau is such an excellent resource for the local people. It's usual to see dog walkers, horse riders, the footballing kids of the future and joggers all wandering along to make use of the area. Families wander through as well as groups of children and young people off to have fun on their own. I was one of these children once, having lived all my life nearby.
This lovely tree lined, although slightly narrow road, takes you from Caerau down toward the link road. The hill fort area is surrounded by beautifully managed woods, protected as a special area and inhabited by the most amazing birds and wildlife. Even slow worms like it in there. The homes along Heritage Drive, just off Cwrt yr Ala Road were built on the site of the old Caerau Isolation Hospital.
Sadly this was built within the banks and ditches of the Caerau hill fort. But hey, we didn't know any better then, did we?
As I just mentioned a solar park was planned. Renewable energy they said. Yes, a few solar panels in the field and most certainly not visible from the hill fort. They actually forgot to mention that the construction of this amazing solar park would mean driving lorries, very quickly, in a dust raising, dirty and frankly quite dangerous manner along Cwrt yr Ala Road. That lovely quiet tree lined but slightly narrow road in the image above. Most residents took this on the chin. It was good for the environment wasn't it, to get away from the smoking chimneys of the coal-fired power stations.
Everyone wants renewable sources of energy, don't they? I've since learned from a friend that should you have solar panels on farmland then it's wise that you keep animals out of the field as you can't really sell them on later or even, it is my understanding, use the field for agricultural purposes for some years after the panels have been removed. I could be wrong on this or hey, maybe I just don't know any better.
I was up at the hill fort only recently. It's still so lovely up there but obviously, since the trees are now without their leaves, it is possible to see the Ely Link Road. And, surprise surprise, you can see the solar farm.
Now, and this is the bit that is really making me rather very angry, I have learned – via social media – that we are now going to have – guess what ? OK, that's unfair, how could you know – I didn't – a LANDFILL SITE. Yes, that's correct. Now, this is not your black bag rubbish type tip, this is an 'inert waste' tip. What exactly does 'inert waste' mean? So, for the next 5 to 6 years up to 20 lorries, very quickly, in a dust raising, dirty and frankly quite dangerous manner will be driving along Cwrt yr Ala Road each day. That's up to 40 journeys along this lovely quiet tree lined but slightly narrow road.
I'm really pleased to be able to say that the local Labour Councillor for the area is doing his level best to stop this happening. Indeed the Welsh Lib Dem AM for South Wales Central and spokesperson on Enterprise, Transport, Europe and Business has assured me that she will 'look into it' but in the meantime the Vale of Glamorgan Council has, in their recent report on this completely outrageous planning application – available online and therefore well within the public domain – given me the opportunity to give you some quotes. In fairness I suggest you check this out for yourselves but, in the meantime here are a couple of my favourites:
The site is located in open countryside and within the Cwrt yr Ala Basin Special Landscape Area as defined within the Unitary Development Plan. The site also lies within the boundaries of the derelict mineral site, the former Ely Brickworks. In addition it is noted that the Caerau Wood hill fort, which is a Scheduled Ancient Monument, is located to the north of the site within the neighbouring Cardiff Council Local authority area.
and;
In terms of impact upon Vale residents this would be very limited as there is no residential development, within the Vale, close to the proposed site. With regard to impact upon Cardiff residents, and any significant effect on the environment by virtue of the nature, size and location of the development this is a decision for the Local Planning Authority (LPA)
So, there you are then. To me that translates as – yes, we know it's an important area and we acknowledge this but let's quickly move on. The second quote means that there are of course housing developments nearby but, come on, they are in Cardiff, not the Vale of Glamorgan so that doesn't matter to us. In fact, just so you know and I may of course be pointing out the obvious here, there are many property websites used by estate agents and prospective buyers who will pick up on things like transport links, schools and, obviously, landfill sites. I'm not sure but I worry that the residents of the very beautiful vale village of Michaelston le Pit may find out that this may also affect them – just by being in quite close proximity to this tip site. In fact I spoke with an established and respected estate agent only this morning who advised me that although this may not actually bring down the price of a property nearby immediately it will certainly not improve it. The advice was to consult further with a surveyor. That's not really what I wanted to hear and I am sure that nearby residents won't be happy to hear the financial implications upon their hard earned mortgaged properties should they decide to sell.
I would suggest that there will be major concerns from Cardiff Council and their residents once this very well kept secret becomes public knowledge. I really hope so. The enjoyment of all to access the area from Cwrt yr Ala Road towards Michaelston le Pit will be impacted on, most certainly. The right of the Cwrt yr Ala residents to enjoy their homes will most certainly be negatively affected, I know this as I lived through the delight of the solar park development. The access to the hill fort and the 12th century church for community groups will be restricted and, perhaps the work to preserve the tower of the old church could be seriously undermined by these vehicles shaking the living daylights out of it. That would be such a shame for all those who clearly care so much about it. What about Caerau (Ely) AFC – their ethos of ' Working With the Ely Community, For the Ely Community ' could be seriously affected by safety issues. I'm sure it won't be safe to be toddling along there trying to dodge these vehicles for the next, what was it – 5 to 6 years?
So what can be done? I'm not too sure really. Perhaps we can suggest that the Vale of Glamorgan Council may want to consider other options for this 'inert waste' landfill site. Perhaps, let's just think a minute – the residents of Dinas Powys would be happy for it to be placed just a bit further over.
That other hill fort area known as Cwm George has plenty of room. I bet not many people use this – just a couple of walkers, now and then – and the Woodland Trust won't mind, surely? Or, perhaps, what about that stretch of beach adjacent to Sully Island? Hardly anyone goes there. The residents of Sully wouldn't even notice. Yes, I agree that these are areas of special interest and so very important to the residents but isn't Caerau of equal value?
There is just one little final quote that I will share with you. I visited Cosmeston Lakes Country Park today and went in to the little shop to buy a book on the history of this area. On the wall, right in front of me was this final quote from the Vale of Glamorgan Council. It read – and I quote 'A sad chapter in Cosmeston's history saw the quarry used for several years as a landfill site for household waste'. The little book I purchased for £4 completed this with 'Permission to tip household rubbish on the west side of Mile End Road was granted to Penarth Urban District Council in 1964 (with some waster tipping already underway several years before that).'
So, please tell me – does this mean that the Vale of Glamorgan Council recognise that they really DO know better?
.
88% of people oppose harming the hillfort. No surprise there then! But paradoxically the poll may bring comfort to those who do want to harm it for it implies that the purpose of building houses there is to tackle the housing shortage. It isn't. It's a lie. It's about some people wanting to be made very rich and a lot of others wanting  to help them, for reasons unknown. It's a fact, there are  loads of other sites in and around Oswestry and 40,000 acres of open land within ten miles, all of which would be less damaging to develop. (Oh, and the national and local housing shortage is of starter homes. The ones planned for Oswestry Hillfort's setting will be mainly expensive executive units!).
So a better poll question would be: "Is the behaviour of Shropshire Council a disgrace? YES/NO." The fact their old Leader departed under a cloud which they blatantly tried to minimise was merely one of many previous actions lending them a wild west image and the new Leader lost no time in disgracing them further – twice. He told the world "No-one in this council wants to do anything that is detrimental to the hillfort" just before the whole Council voted to do exactly that! He also excused them with the words "The inspector has concluded that the Shropshire Site Allocations and Management of Development Plan is sound, legally compliant", which implies it's OK because, like metal detectorists bleat when they target unprotected archaeology, "it's legal, innit?" If they get their way that's how they'll go down in history – people saying it's legal in order to divert from the fact it is also absolutely, avoidably, definitely, categorically, politically, morally wrong!
Incidentally here's something else the Shropshire Star could ask its readers to consider. A couple of years ago the Chairman of the National Trust wrote: "Town-and-country planning has been one of the great achievements of 20th-century Britain. It has guarded some80 per cent of the land area as rural in one of the most densely populated yet generously housed countries in Europe." ….. however: "the presumption in favour of sustainable development, defined merely as profitable, is the most philistine concept in planning history". What does that say about Shropshire Council, which has applied that presumption more insistently and obnoxiously than any other Council in Britain?
But let's not forget the role of Historic England. They've been indispensable to Operation Screw the Fort for Cash. Why does that seem so shocking? Probably because they're a national organisation, clear of local politics (though not of cowardice in the face of the enemies of heritage some say!) To be fair to them, they defended themselves last November: "We recognise that this is a sensitive location and we still have concerns about design and numbers of houses". Hmmm, super, still have concerns about the design and numbers of houses do you? But why don't you tell the ladies and gentlemen of the Public what the Inspector said: "Notwithstanding the level of opposition to the inclusion of site OSW004, Historic England has not maintained an objection, a consideration that I afford considerable weight." So your failure to object seems to have directly helped stuff the hillfort, and the only person on Earth who knows if that's true says yes it is, which leaves any denial or defence by you looking simply undignified.
Worse, by saying you have misgivings about size and layout you have handed the damagers a golden ticket. They can simply agree to change the specifications, secure in the knowledge they then will get your approval! So it's no good you trying to calm the anger by suggesting it's not a "done deal" yet. You  probably had it in your power to ensure there was no deal, and didn't, and now you're left with only the chance to nitpick about the number of bedrooms.
So Shropshire has been ill-served, not just by the odious behaviour of its Council but also by England's Historic Environment "champion". There's an excellent satirical piece in "The Pipeline" this week which isn't a million miles from reality: "Meanwhile a spokesperson for the senior management of Historic England explained that, while the organisation had some reservations about demonic machines from the deepest circle of hell defining Government planning policy, it stood by the conclusion of its Historic Environment Impact Assessment that any damage to the historic environment done by Satan and all his Fiends was limited and was outweighed by the benefits."
.
.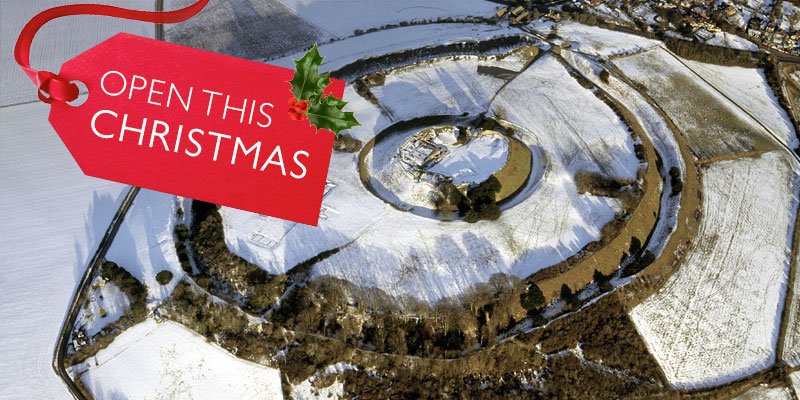 .
Looks just like Old Oswestry Hillfort. Yet treated with far more respect by English Heritage!
Old Sarum has two advantages over Old Oswestry. It has the sense to be in Wiltshire, where EH wouldn't dare to do what they've done in Shropshire. And it hasn't been a Rotten Borough since the nineteenth century whereas Shrewsbury patently still is.
#gawdknowshowtheycanlivewiththeirconsciencesthisxmas
In a word, yes (along with "Rescue"). Yesterday Shropshire Council voted unanimously to damage Oswestry Hillfort's setting, (inexplicably ignoring this overwhelmingly powerful last minute appeal). The Inspector had attached "great weight" to English Heritage's failure to stand up for the Hillfort, so effectively if it ends up done for it will be English Heritage that did for it. What a thought!
Meanwhile, this year Historic England has actively lobbied for the bulldozing of massive new dual carriageways over the World Heritage landscape at Stonehenge. Last time, when EH called for that 10 years ago, The National Trust fought against it tooth and nail.  This time, the Trust is supporting it (a u-turn it is still to convincingly justify, even to its own employees). The Government said the Trust's support had been "decisive" , so effectively  if it ends up done it will be The National Trust that did it. Another amazing thought!
By contrast The Campaign to Protect Rural England tends to be logical and consistent in it's attitude towards heritage protection (for proof see their recent masterful demolition of the Government's Green Belt "myths"). They urged Shropshire Council to "think again" on the Hillfort. They opposed the Stonehenge short tunnel the first time AND the second time. Unlike English Heritage ("We pursue the highest standards in all our work") and Historic England ("Championing England's Heritage") they always say what they really think, not what pleases the Government, and unlike The National Trust they never have a day off from their core beliefs.
__________________________________________
PS, if you wish to express your opposition and incredulity regarding The National Trust's ("Forever, for Everyone") and English Heritage's ("our role is guardians of Stonehenge") joint ambition to cause massive damage to the Stonehenge World Heritage Landscape you can sign the Stonehenge Alliance's petition here.
__________________________________________
PPS, Councillor Malcolm Price, portfolio holder for regulatory services, housing and commissioning, said: "No-one in this council wants to do anything that is detrimental to the hillfort, that's why we removed two of the sites from the plan."  If it was true that "no-one in the council wanted to do anything detrimental to the hillfort" they would have followed the advice of the national experts and removed the third one. But they didn't, so it's not true, is it Councillor Price? Please withdraw your false claim, it reflects as badly on you as some of the previous Leader's statements did on him and people in the wider world will think absolutely nothing has changed in Shropshire.
__________________________________________
PPPS, As "Chirkmabel" has pointed out in our Comments : "Shrops Council would have happily kept the first 2 sites for development if it hadn't been for all OUR efforts to campaign against them." It's true. They fought like tigers to keep the 2 sites, Councillor Price can't deny that, so his  words turn out to be blatant whitewashing of the reality. There's something absolutely rotten in the state of Shropshireland as Private Eye has now picked up on.  But just about everyone has realised that for some time. Now that Shropshire Council has risen above the metropolitan horizon could the time have come for an independent examination of its behaviour? Investigative reporters, judicial or legal bodies – feel free!

__________________________________________
(BTW, many years ago my father was on the old "Shropshire County Council".  He was immaculately honest all his life and he felt a very strong sense of duty to the public, as did his colleagues I believe.  He would be appalled to see what has been going on at the new "Shropshire Council". He would have told the press exactly what he knew and what he felt about the cowboyism, not kept totally quiet or actively denied it, as is mostly happening there now. )

__________________________________________